Algerian filmmakers were the big winners when the awards were handed out today (Tues) at Locarno's Open Doors co-production lab, this year dedicated to the Maghreb region.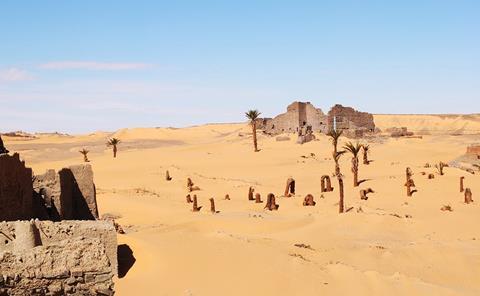 The Open Doors Production Grant, worth $30,465 (CHF 30,000), was awarded to Narimane Mari's Le Fort Des Fous, which is being produced by her Allers Retours Films with French co-producer Corinne Castel's Centrale Electrique.
The CNC's $10,900 (€10,000) prize went to Karim Moussaoui's debut feature En Attendant Les Hirondelles, which will be co-produced by France's Philippe Martin and David Thion's Les Films Pelléas.
A third prize for Algeria - the newly created Prix MAD Solutions including the financing of PR, mareting and press and publicity services - was presented to Yanis Koussim for his second feature Ruqya.
"Due to the number of strong projects in the Open Doors section, we decided to extend our MAD distribution award to two projects," said Alaa Karkouti, MAD Solutions' co-founder/managing partner and film analyst.
"We believe the Maghreb countries have rich ideas and content, which deserve a region-wide release across the Arab world."
Consequently, the pan-Arab studio and consultancy awarded a second prize to the Tunisian-French project L'Amour Des Hommes to be directed by Mehdi Ben Attia.
Development Grants
This year's Open Doors Development Grants worth more than $10,000 (CHF10,000) each went to Tunisian filmmaker Nadia Rais for her full-length animation project Aller Simple and Moroccan director Fyzal Boulifa for his feature debut Pagan Magic, which will be produced by Louise Bellicaud's recently established Paris-based In Vivo Films.
The Prix ARTE International Open Doors, with a purse of $6,500 (€6,000), was awarded to the Libyan-South African co-production The Colonel's Stray Dogs by Khalid Shamis
This year also saw the presentation of another new prize by the recently founded EU initiative Investing in Culture & Art in the South Mediterranean (ICAM).
The Prix ICAM - with a prize of $21,800 (€20,000) went to Moroccan filmmaker Alaa Eddine Aljem's Saint inconnu, which is being produced by Francesca Duca's Le Moindre Geste.
The winners for this edition of Open Doors were selected from 10 projects after two - Retina and Inhebek Hedi - were withdrawn as a reaction to the festival's collaboration with the Israel Film Fund.