Tom Hiddleston and Cate Blanchett rank the most discussed festival attendees.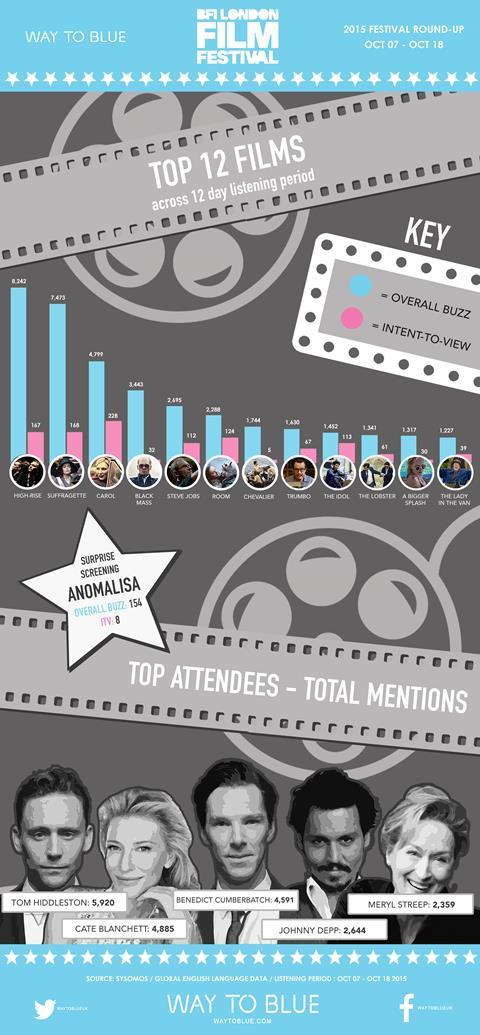 The curtains on the 59th BFI London Film Festival have finally closed and analysis firm Way To Blue have examined the online chatter to discover which films and talent grabbed the social headlines.
Yet for these titles success will not be measured by buzz but by box office sales, so Way To Blue has calculated how likely online discussion may convert into seats at the cinema.
Way To Blue have looked at social buzz for films over the London Film Festival; from opening gala through to closing night as well as keeping monitoring the screening peaks to see which films generated the highest spikes of social conversation.
An infographic with all the key results reveal:
Ben Wheatley's JG Ballard adaptation High-Rise rose to the top of the tree by the end of the LFF. Not only does it lead in terms of overall social discussion with 8,242 mentions, it also secured the highest one day peak with 6,228 mentions on its first screening.


Sarah Gavon's period drama Suffragette was beaten to second place in terms of overall mentions. However, when it comes to Intent To View it's almost too close to call, with only one mention separating High-Rise and Suffragette respectively.


Suffragette same out on top when it comes to single day peak Intent To View mentions.


Todd Haynes' Carol stole Intent To View discussion with 228 mentions.


The Hiddlestoners ensured that Tom Hiddleston was the most discussed LFF attendee with 5,920 mentions, pipping Cate Blanchett into second place with 4,885. Both stars had gala screenings at the festival.

Way To Blue also looked at top 10 films by first screenings peaks.
TOP 10 MENTIONS - FIRST SCREENING
High-Rise
6,228
Suffragette
6,198
Carol
3,797
Black Mass
2,671
Steve Jobs
2,265
Trumbo
1,282
Chevalier
1,137
The Lady in the Van
1,043
The Idol
1,014
The Lobster
986
TOP 10 ITV - FIRST SCREENING
Suffragette
147
High-Rise
101
Steve Jobs
96
Carol
74
Room
74
The Idol
73
Trumbo
58
The Lobster
47
Brooklyn
38
The Lady in the Van
34