The BFI London Film Festival is to host the European premiere of Nate Parker's awards hopeful The Birth Of A Nation.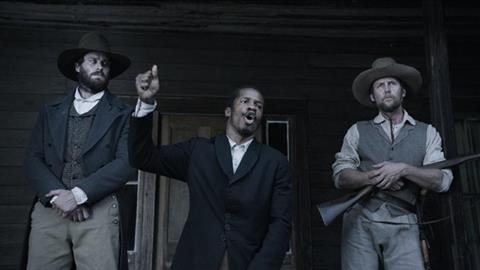 US actor and director Parker, who has made headlines in recent weeks over a historic rape trial, is listed among the guests expected to attend the festival around its gala screening on October 11.
LFF festival director Clare Stewart told Screen: "It's really powerful cinema and we stand for important, significant filmmaking. It's not my place to pass comment on the personal lives of the filmmakers we represent. The festival stands by strong filmmaking."
Parker wrote and directed the film, in which he also stars as Nat Turner, a slave and preacher in the antebellum South who led a slave rebellion.
The Birth of a Nation was first seen by LFF programmers at Sundance, where it won the audience award and grand jury prize, and was acquired by Fox Searchlight for a record $17.5m.
It will also feature in Black Star, the BFI's symposium to highlight the work of black actors.
The film began generating Oscar buzz when it first screened at Sundance in January, both on the strength of the film and its potential to avoid a repeat of the #oscarssowhite criticism levelled at the last Academy Awards.
But recent media attention has been focused on Parker's acquittal for rape in 1999 and his accuser's subsequent suicide.
The film and its creator will be under the spotlight again next week at Toronto International Film Festival, where Fox Searchlight has announced that it will hold a junket and press conference for The Birth of a Nation with Parker in attendance.
The filmmaker and his fellow cast will take part in a video junket on Sept 10, the day after the film is screened at the festival, while a press conference is scheduled for Sept 11.
The Birth of a Nation is scheduled for release in the US on Oct 7 and in the UK on Jan 20, 2017.