Danny Boyle's biopic, starring Michael Fassbender as the Apple visionary, to receive its European premiere in London.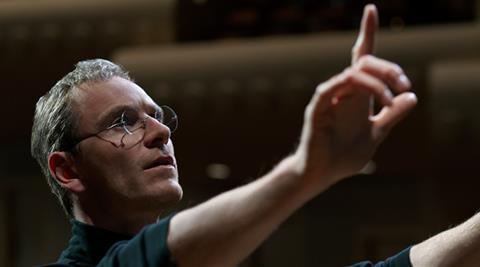 The 59th BFI London Film Festival (Oct 7-18) has announced that this year's closing night film will be the European premiere of Steve Jobs.
Directed by Danny Boyle and starring Michael Fassbender as the visionary behind technology giant Apple, Steve Jobs was written by Aaron Sorkin (The Social Network) based on Walter Isaacson's biography.
Boyle and Fassbender will attend the closing night gala on Oct 18 at the Odeon Leicester Square alongside Oscar-winning actress Kate Winslet, who plays Joanna Hoffman, one of the original members of Jobs' team in the 1980s.
It marks the third film directed by Boyle to close the LFF, following Slumdog Millionaire (2008), for which the British filmmaker won an Oscar for directing, and 127 Hours (2010).
Boyle said: "If London was the cradle of the Industrial Revolution then San Francisco is the Bethlehem of the digital one.
"We had a brilliant time making this movie in Silicon Valley and I hope Londoners will enjoy a behind-the-scenes look into the making of the modern world.
"It's always special to bring work home so thanks to BFI London Film Festival for their continued support."
Audacious
Announcing the premiere, LFF director Clare Stewart described the biopic as "an exhilarating and audacious film".
Spanning a period of 14 years between 1984 and 1998, the story of Jobs' life is built around three seminal product launches: the Macintosh in 1984; the NeXT 'Cube' in 1988; and the iMac in 1998.
In addition to Fassbender and Winslet, the film stars Seth Rogen as Steve Wozniak, the co-founder of Apple, and Jeff Daniels as John Sculley, the former Apple CEO.
The principal cast also includes Katherine Waterston as Chrisann Brennan, Jobs' ex-girlfriend, and Michael Stuhlbarg as Andy Hertzfeld, one of the original members of the Apple Macintosh development team.
Producers are Mark Gordon, Guymon Casady, Scott Rudin, Boyle, and Christian Colson.
Universal Pictures release the film in cinemas across the UK and Eire on Nov 13.
The New York Film Festival has announced it will screen Steve Jobs on Oct 3 but has not confirmed that this will be the world premiere, suggesting it may first be seen at Toronto or Telluride next month.
Jobs died in 2011 following a battle with cancer.
As previously announced, the BFI London Film Festival will open with Suffragette, the story of the British women who fought for the right to vote at the turn of the 20th century, starring Carey Mulligan.