Period drama starring Carey Mulligan and Meryl Streep to receive European premiere; new trailer released.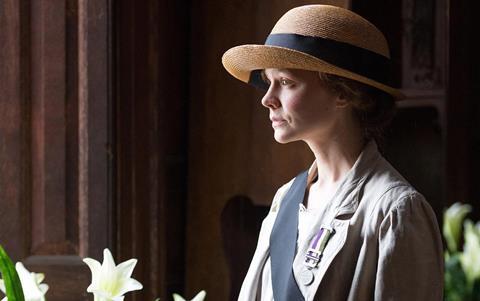 Suffragette, the story of the British women who fought for the right to vote at the turn of the 20th century, has been named as the opening night film of the 59th BFI London Film Festival (Oct 7-18).
The period drama will receive its European premiere at the festival on October 7 – three weeks ahead of its UK release – at the Odeon Leicester Square, attended by cast members including Carey Mulligan, Helena Bonham Carter and Meryl Streep.
The premiere will be broadcast live from the red carpet ahead of simultaneous screenings of the film at cinemas across the UK.
The film stars Mulligan, Bonham Carter, Brendan Gleeson, Anne-Marie Duff, Ben Whishaw and Streep.
It is directed by Sarah Gavron, who returns to the festival for a third time, reteaming with her Brick Lane screenwriter Abi Morgan (The Iron Lady).
The film is produced by Faye Ward and Alison Owen, producers of Saving Mr. Banks, which closed the LFF in 2013.
Suffragette tracks the story of the foot soldiers of the early feminist movement as they fought for the right to vote, women who were forced underground to pursue a dangerous game of cat-and-mouse with an increasingly brutal State.
Mulligan will play one such foot soldier, Maud, while Steep makes an appearance as Suffragette leader Emmeline Pankhurst.
LFF festival director Clare Stewart said Suffragette was "an urgent and compelling film – made by British women, about British women who changed the course of history."
Producers Ward and Owen described the feature as "a film of struggle, a film of rage, but above all a film of passion".
"The women in our film are British women, London women, so it feels right for us to present our film at BFI London Film Festival," they said of being selected for opening night.
"The Suffragettes would have felt very much at home here, surrounded by the energy, determination, hard work and inspiration that goes into both the Festival and the films that screen here."
The film is produced by Ruby Films for Pathé, Film4 and the BFI in association with Redgill Productions and with the participation of Canal+ and Cine-Cinema.
Executive producers are Cameron McCracken, Tessa Ross, Rose Garnett, Nik Bower, James Schamus and Teresa Moneo.
The late Christopher Collins was the lead executive for the BFI.
Pathé UK is set to release the film in cinemas nationwide on October 30.
The full programme for this year's LFF will be announced on September 1.