Period drama starring Cate Blanchett and Rooney Mara to receive UK premiere at LFF; new trailer released.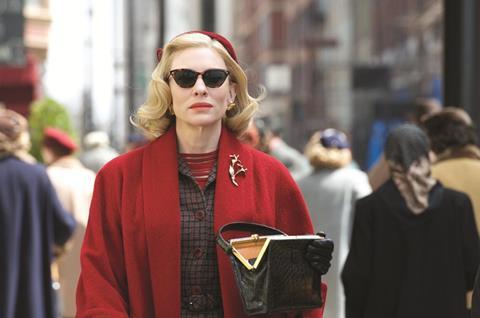 Carol, Todd Haynes' 1950s set drama, has been selected by the 59th BFI London Film Festival (Oct 7-18) where it will screen as the American Express Gala.
The film will receive its UK Premiere on October 14 at the Odeon Leicester Square, attended by Haynes and stars Cate Blanchett and Rooney Mara.
Set in 1950s New York, Mara plays a department-store clerk who dreams of a better life falls for an older, married woman, played by Blanchett.
Mara's performance won her the best actress prize at the Cannes Film Festival in May (tied with Emmanuelle Bercot for Mon roi), where the film received its world premiere and also won the 'Queer Palm'.
Based on Patricia Highsmith's novel, The Price of Salt, adapted by Phyllis Nagy, Carol co-stars Kyle Chandler, Jake Lacy and Sarah Paulson.
Haynes, whose unconventional Bob Dylan biopic I'm Not There played at the LFF in 2007 and whose period drama Far From Heaven was the festival's "surprise film" in 2002, said: "We are all extremely proud to be presenting the UK premiere of Carol at the BFI London Film Festival, a film adaptation which had its roots in Britain, and a festival which has meant a tremendous amount to me personally over the years."
Clare Stewart, BFI London Film festival director, described the film as"a deeply romantic, emotionally honest love story and is also cinema at its most intoxicating and immaculate".
Carol is produced by Elizabeth Karlsen and Stephen Woolley of Number 9 Films alongside Christine Vachon of Killer Films.
Karlsen said: "Carol is a beautiful romance with two powerful women at its heart and we are truly honoured that UK audiences will have the chance to see such a female-driven film at one of the world's most prestigious festivals."
Carol was developed by Film4 who also co-financed the film and is produced in association with Larkhark Films, for StudioCanal, Hanway Films, Goldcrest, Dirty Films and InFilm.
Executive producers are Tessa Ross, Dorothy Berwin, Thorsten Schumacher and Bob Weinstein, Harvey Weinstein, Danny Perkins and Cate Blanchett, Andrew Upton, Robert Jolliffe, and is co-produced by Gwen Bialic.
StudioCanal will release the film in cinemas nationwide on Nov 27, 2015.
The full LFF programme will be announced on Sept 1.