EXCLUSIVE: Companies are currently in post production on second feature Phantom Boy [pictured].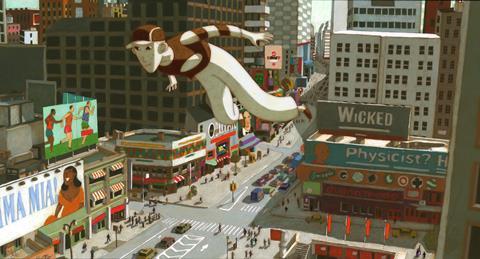 Here in Berlin, it has emerged Belgium's Lunanime is to make its third feature with French animation powerhouse Folimage.
Lunamine and Folimage first collaborated on international box office hit, A Cat In Paris (2010). They are now in post production on their second feature together, Phantom Boy.
Now, here at the EFM, Lunamine's Annemie Degryse confirmed the two companies will be working on a third project.
Lunamine (the animation arm of leading Belgian distributor) and Folimage will partner on Tulip. This will again be directed by Alain Gagnol and Jean-Loup Felicioli. It will be shot in the same carefully crafted style, using hand drawn animation, as its two predecessors.
Tulip tells the story of an 11-year old girl who sees monsters - at first she is terrified of these visions, but she soon learns they are actually a gift she inherited from her grandmother
Sales are handled by Lumiere International Sales together with Paris-based Doc & Film International. Phantom Boy has already been sold to many European territories.
"The aim of selling it [Phantom Boy] is to have a lot of European distributors together," Degryse commented of plans to synchronise the release in multiple territories. The opening is set for October.
Octogenarian filmmaker Raoul Servais, a legendary figure in Belgian animation, has completed a new short, Tank, for Lunamine. This will be vying for festival selection prior to its release in Belgium in the autumn.
The film is handled in the international market by Lumiere's sales arm.
On the live action production front. Lumiere is also producing Le Ciel Flamand by Flemish director Peter Monsaert, This is due to shoot in August with delivery for summer 2016.