Dir: Enrique Rivero. Mexico. 2012. 84mins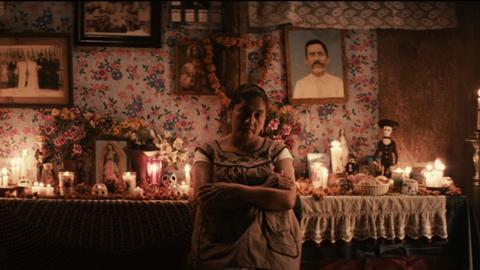 Mexican director Enrique Rivero, whose 2008 debut Parque Via garnered festival prizes and arthouse plaudits, rations out incident and emotion sparingly in this funereal-paced story of a middle-aged Mexican woman who returns to her hometown to care for her dying mother.
Arnau Valls Colomer's poetic camerawork works with Rivero's pared-back script and the unactorly acting of the small cast.
For the patient viewer, there are rewards, especially in the director's sensitive use of his rural setting – the network of canals and waterways around the town of Xochimilco, on the southern edge of Mexico City's federal district. This is a film whose drama lies as much in the play of light on water, fields, trees and distant mountains as in the minimal dialogue and interactions between its few characters.
But it's still a long, attention-challenging slog, and without the thriller edge and surprise ending of the equally glacial Parque Via to stimulate us, Mai Morire will likely be confined to the festival circuit, Latin American specialist niches, and the hardcore edge of the theatrical arthouse market.
Chayo (Saldana) is a strong woman of the people, clearly of native Mexican descent, who radiates inner calm but also seems to be hiding some secret sadness. We first see her being punted down one of Xochimilco's waterways to the country shack where her ageing and ailing mother (Salas) lives with two primary-school-aged girls and their father. Such is the reticence of Rivero's exposition, and the emotional reticence of his characters, that it takes us a while to work out that Chayo is the girls' mother, and the man (Chirinos) her husband.
She has been working as a maid in the city, but a couple of monosyllabic phone conversations reveal that having returned, she is stubbornly determined to stick with her mother until the end.
Chayo's observation that "time passes differently here" might be taken as the film's logline; it's difficult to reconstruct the passing of the days, and the sense that we've entered a kind of dreamspace where the usual rules don't apply is heightened by omens like a hole in the roof of the mother's house that seems a sign of some kind, which Chayo will later discover on a brass amulet; by certain visions that come to her in her dreams; by the camera's fascination with the transitional hours of sunset and sunrise. One of the fascinating, and original, things about Mai Morire ("never die") is that it centres on the existential crisis of a strong and grounded woman, who gives little outward sign that she's going through one.
Arnau Valls Colomer's poetic camerawork works with Rivero's pared-back script and the unactorly acting of the small cast to create a convincing, understated account of a woman seeing beyond the confines of a hard, hand-to-mouth existence for the first time to glimpse something that lies beyond, and has not a little to do with the ferrymen (a thankfully underplayed metaphor) that ply the waterways of Xochimilco. But understatement can sometimes be as exaggerated as overstatement; and it would be nice if Chayo's emotional journey were just a little less reticent, and a little more legible.
Production companies: Una Comunion, Zamora Films, Simplemente, Celuloide Films
International sales: Una Comunion, info@unacomunion.com
Producers: Paola Herrero, Enrique Rivero
Screenplay: Enrique Rivero, Aleka Rivero
Cinematography: Arnau Valls Colomer
Editor: Enrique Rivero, Javier Ruiz Caldera
Production designer: Christopher Lagunes
Main cast: Margarita Saldana, Amalia Salas, Juan Chirinos