It is all change for Dublin as the city's 10-day festival launches a new programme, new sponsors and a new general manager.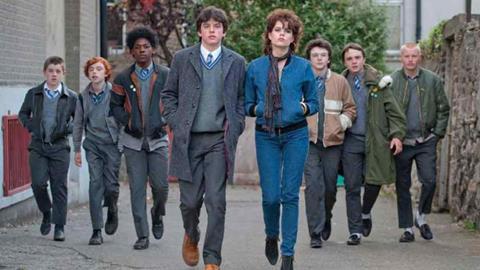 The Audi Dublin International Film Festival (Feb 18-28) has announced a solid line-up of local and international titles as well as big-name guests.
But behind the scenes, the festival has been carefully manoeuvring its way through a period of transition as it aims to build for the future.
Car manufacturers Audi have replaced Jameson as title sponsors, while beer brand Peroni and Dublin department store Arnotts have also come aboard.
Dublin also has a new general manager, Sian Cunningham, who worked in the arts for more than 15 years prior to this appointment, most notably as general manager with Dance Ireland for nine years.
An eclectic group of filmmakers and stars were announced at today's programme launch, joining previously named guests Angela Lansbury and Neil Jordan.
They include British director Ben Wheatley, who is bringing his JG Ballard adaptation High-Rise to Dublin, legendary Italian screen siren Claudia Cardinale (Once Upon A Time In The West) and Richard Gere for his film Time Out Of Mind.
Other filmmakers set to visit to the Irish capital include Rebecca Miller with her comedy Maggie's Plan and Joachim Trier, whose Louder Than Bombs will screen at the festival.
Festival director Gráinne Humphreys agrees that this is a time of transition for the festival. "There is a lot of enforced naval gazing that goes with switching sponsor that makes you think about who the festival is for," she said.
"It has forced us to make considerations in a much more practical way. The festival is entering its teenage years now [it was established by the late Michael Dwyer in 2003] and a lot has changed in terms of population, our culture, and digital cinema.
"With festivals, there's a danger that organisers aim for the people they talk to the most. Not having a title drinks sponsor means we can now, for example, aim arthouse cinema at younger audiences."
In that regard, John Carney's vibrant, crowd-pleasing Sing Street, fresh off the acclaimed bounce of Sundance, seems an appropriate opener, while other Sundance favourites, Rebecca Daly's Mammal and Paddy Breathnach's Viva, have become hot tickets on the back of US buzz.
But there are other titles causing early interest at ADIFF, including Irish features and a potentially strong line-up of documentaries.
They include My Name Is Emily, the debut feature from acclaimed shorts director Simon Fitzmaurice, who has Motor Neuron Disease, and Traders, Rachael Moriarty and Peter Murphy's gritty thriller.
The Truth Commissioner, Declan Recks' Northern Ireland-set drama centred around a missing person's case, will bow in Dublin.
New Irish documentaries showing at the festival - which has traditionally been a strong platform for documentary filmmakers - include We Are Moving - Memories Of Miss Moriarty, from Claire Dix (Broken Song), about a woman determined to bring ballet to every corner of Ireland.
Hubert Butler: Witness To The Future, Johnny Gogan's documentary on the Irish writer, and Atlantic, Risteard O'Domhnaill's (The Pipe) portrait of three small fishing communities in Ireland, Norway and Newfoundland, will also screen.