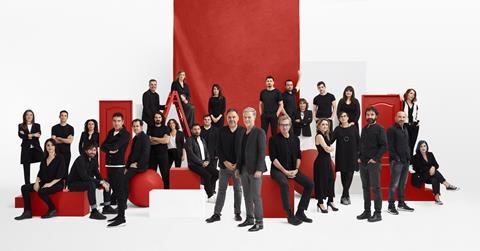 Netflix CEO Reed Hastings and Francisco Ramos, vice-president of originals for Spain and Latin America for Netflix, officially inaugurated the premises of the company's first physical European hub, dubbed Casa Netflix, in Madrid today (April 4).
"Spain's long history of production, great talent schools, great history and companies," said Hastings in response to the question of why the company is investing so heavily in Spain. "It's a very developed industry and we hope with the investments that we are making, and with others, it will continue to grow."
Hastings said Netflix aims to employ 20,000 people including extras and freelance crew, in Spain alone, making it one of the industry's biggest employers.
The company also announced two new Spanish-language series: an adaptation of Harlan Coben's crime thriller The Innocent, to be directed by Oriol Paulo and produced by Belén Atienza and Sandra Hermida, and The Minions Of Midas, an adaptation of a short story by Jack London to be directed by Mateo Gil and produced by Adrián Guerra.
Around 150 members of the Spanish industry and media gathered for the opening at the Sequoya Studios in the outskirts suburb of Tres Cantos, north of Madrid, which now shines in Netflix red and sports a sign at the door that reads 'Casa Netflix'. (However, Netflix would like the TV-oriented facility to be called 'Production Hub'.)
The Sequoya site has three working studios that will be increased to five to provide a total of 22.000 square metres by the end of the year. In the longer term, Sequoya and Netflix plan to build what they call Madrid Content City, with a total set capacity of 140,000 square metres.
"Not all great stories come from Hollywood"
Since its arrival in Spain in 2015, Netflix has signed a deal with the local streaming platform Movistar and is aiming to increase the number of Spanish-language productions it shoots in Spain, all aimed at the international market. They presently total 40, including co-productions, at all stages of production.
"We want to be part of the creative system [in Spain] and we are investing in the long term," said Hastings. "Not all great stories come from Hollywood. We have been investing in Europe, and particularly in Spain. There's a great professional spirit and we are following what people want to watch."
The CEO stressed that the company's policy is "to put shows like Stranger Things and [Spanish production] Money Heist on equal footing" on the service.
Although Netflix's production activity has mainly focused on TV series in Spain so far, the film industry has broadly welcomed the arrival of such a powerful player.
"Stability [in the industry] has always been precarious and this brings a change for the better," said producer Belén Atienza.
"The bottleneck between production and exhibition has been broken, our series and films are reaching a broader audience," agreed Mariano Barros, director and president of the Spanish Film Academy. "We are all in this together, cinema and TV people, we are all part of the same group of professionals."
With limited public and TV funding, the consensus is that financing opportunities for Spanish producers have increased with the arrival of Netflix, and with them a chance to broaden the audience for Spanish films. Netflix has backed several Spanish films including arthouse titles such as Ramon Salazar's Sunday's Illness and Isabel Coixet's Elisa & Marcela, while the Almodovar brothers' El Deseo production outfit is making a TV series with the streamer.
Theatrical exhibitors and free TV channels are understandably less thrilled but none are ruling out a collaboration with Netflix.
Barroso, who directed the series Criminal for Netflix, called for a compromise between the SVoD giant and the exhibitors at a panel which took place as part of Thursday's event. Chaired by Ramos, the speakers included Álex Pina, creator of Money Heist, Atienza (who has made Alma for Netfix and is producing the upcoming The Innocents) and Teresa Fernández-Valdés (Cable Girls and High Seas). "We are not in formal talks with exhibitors, but we are open to them and happy to do so with Mariano Barroso's help," said Ramos.
Earlier in the day, Hastings described the relationship between Neflix and other global streamers as "healthy competition".
"I'm also watching shows on HBO and Amazon, [on] Movistar," he said. "I see it like friends that are running together. You push each other a little bit to run a bit faster."