Motherland premiered at the 2017 Sundance Film Festival and screened at the 2017 Berlinale.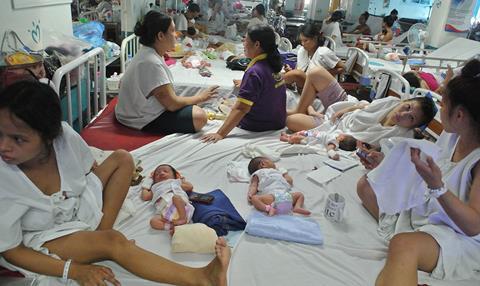 Brooklyn-based film and TV distributor FilmRise has acquired exclusive North American distribution rights to Ramona S. Diaz's documentary Motherland from London-based sales and distribution company Dogwoof.
FilmRise plans a theatrical release for this summer via The Film Collaborative, while it will have its television premiere on PBS's POV series this autumn.
Motherland takes place in one of the world's largest and busiest maternity hospitals in the Philippines. Diaz follows three women as they navigate through the severe conditions of giving birth there, from jam-packed delivery rooms to overflowing corridors where babies are misplaced and then found.
The documentary had its world premiere at the 2017 Sundance Film Festival, where Diaz won the world cinema documentary special jury award for commanding vision. The film went on to screen at the 2017 Berlinale in the specialty Forum section.
The film will also be available to stream later this year exclusively on Amazon Prime Video. FilmRise opted-in the film to Amazon Video Direct's Film Festival Stars—a new programme designed to establish an attractive distribution model for films screened at film festivals.
Under the programme, FilmRise will receive an upfront cash bonus which, at its discretion, may be applied toward marketing or other activities in support of the film's upcoming release, and a doubled Amazon Video Direct royalty rate, beginning with the first stream.
Diaz said: "I'm very much looking forward to partnering with FilmRise on the release of our film after successful premieres at festivals both in the U.S. and abroad. We feel strongly that the film will strike a chord with viewers, all the more so in today's political and cultural climate."
Danny Fisher, CEO of FilmRise, said: "We're thrilled to begin sharing Motherland with viewers across myriad platforms throughout the year. Veteran filmmaker Ramona S. Diaz provides an intimate look into a turbulent yet hopeful environment and does so with a tender realness that I'm certain will resonate with audiences."
Diaz and Rey Cuerdo produced, while Brillante Ma Mendoza, Sally Jo Fifer, Justine Nagan, and Chris White served as executive producers.
The deal was negotiated between Fisher and FilmRise's vice president of acquisitions Max Einhorn with Dogwoof head of sales Anna Vicente.