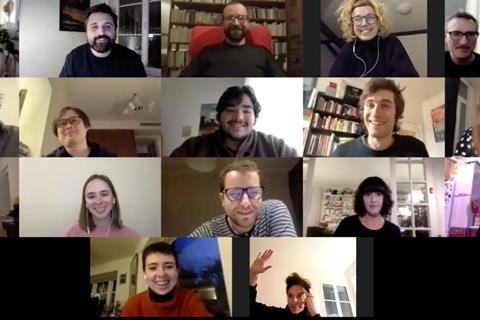 UK filmmaker Molly Manning Walker has been revealed as one of 10 directors participating in the 2020 digital edition of the Next Step programme of Cannes Critics' Week with her project How To Have Sex.
The other directors are: Spain's Lucía Aleñar Iglesias's Forestera, Portugal's Duarte Coimbra with The Jacaranda Storm, Canada's Graham Foy with The Maiden, France's Naïla Guiguet with Alyson, Azerbaijan's Teymur Hajiyev with Man In A Blue Sweater, Brazil's Lillah Halla with Ainda, Belgium's Jaf & Raf Roosens with Beats of Love and China's Qui Yang with Some Rain Must Fall.
An online workshop from December 5-11 replaces the usual four-day writing and development workshop at the Moulin d'Andé-Céci screenwriting centre in Normandy.
Consultants and experts involved in the workshop include script consultants Marie Amachoukeli, lab and residencies director Matthieu Darras as well as sales agents Hédi Zardi (Luxbox) and Laure Parleani (Totem). There are also consultations with composers to encourage the directors to already start thinking about what kind of music they want to use for their features.
Two of the directors participating in the session will be offered additional development support. One will be invited to attend a month-long residency at the Moulin d'Andé-Céci, while a second will be offered a three-week residency in the Pop Up Film Residency, run by Darras.
A professional jury will also award the €5,000 Next Step Prize and invitation to attend the 2021 edition of Cannes to one of the projects.
It will culminate with meetings with producers and sales agents on December 11.
NFTS graduate Walker competed in Cannes Critics' Week in 2019 with her short film Good Thanks, You?, which tackled the challenges facing sexual assault victims as they seek justice. Additionally, she has some 30 credits as a cinematographer on short films.
How To Have Sex continues her exploration of sexual violence. It follows three women who head to Mallorca on holiday where they come under peer pressure to lose their virginity in whatWalker describes as a "British rite of passage".
The project is being produced by Ivana MacKinnon and Emily Leo at London-based Wild Swim Films.
Launched in 2014, the Next Step initiative aims to help filmmakers whose short works have premiered in its short film competition to make the move into directing their first feature-length film. To date, it has supported 50 films from 29 countries, with recently completed projects including Brazilian director João Paulo Miranda's Memory House, which was feted in Cannes special Official Selection this year.