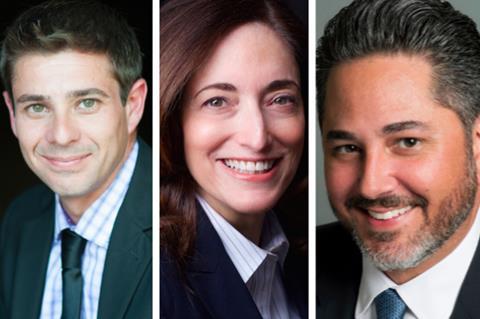 101 Studios co-founders David Glasser and Dave Hutkin have bolstered their executive suite several months after announcing the launch of the company backed by billionaire Ron Burkle among others.
Former studio executive, banker and analyst Michele Newman joins as executive vice-president of finance and strategy, and former president of distribution at The Weinstein Company Laurent Ouaknine is named head of US distribution.
As Screen reported exclusively in January, former The Weinstein Company president of international sales and distribution Ennis Hensley is on board and takes the role of head of international sales and distribution.
Newman will steer financing, strategic planning, business development and operations. Ouaknine will be tasked with overseeing all facets of US theatrical rollout for the studio's films, while Hensley will oversee international distribution and manage the studio's growing number of international relationships.
"Michele, Laurent and Ennis bring with them a wealth of experience that will help 101 Studios become the home to talent who are looking for high quality collaboration and innovative teamwork," said Glasser and Hutkin.
Newman has worked in the industry for more than 25 years. She served in senior executive roles at New Line Cinema and Sidney Kimmel Entertainment, and was a commercial banker, and Wall Street analyst. She has structured asset-based loans, managed M&A deals, and negotiated development, production and distribution deals.
Ouaknine brings more than 20 years of experience as a distribution executive, working on such films as The Artist, The King's Speech, Django Unchained, Silver Linings Playbook, and Inglourious Basterds.
Hensley joined TWC in 2009 during the company's restructuring with Goldman Sachs, and in 2014 was promoted to the company's top international sales post. He led sales on films like The Hateful Eight, Lion, Southpaw, and Woman In Gold.
101 Studios says it has raised more than $300m to acquire, develop and produce four to six films a year in the US, and will finance and produce six to eight TV series currently in development.
The company recently closed on a $28.5m TV deal with Viacom for the first and second seasons of Yellowstone, Taylor Sheridan's modern-day western starring Kevin Costner that airs on Paramount cable network. Glasser served as executive producer.
Besides Burkle, 101 Studios backers include Bob Yari, Sun Capital Partners co-CEO Marc Leder, Marvin Peart of Marro Media Co, and DCI Data Center Services CEO Dan Schryer.