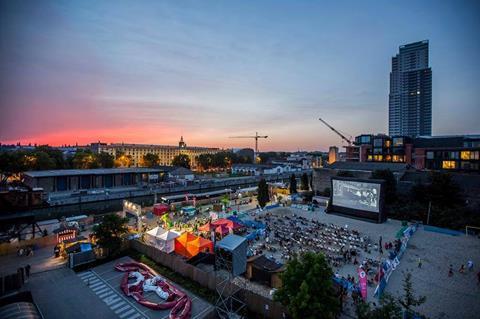 European exhibition network Europa Cinemas has launched Collaborate To Innovate, a scheme to reward innovative and collaborative projects developed by exhibitors in the region.
The scheme, which will run on a yearly basis, has a €1m (£856,706) budget for 2021, which will be shared between 15 projects. Those projects hail from 13 different European countries, and represent a total of 114 film venues. They were chosen from 32 applications for the first funding round.
Scroll down for the full list of projects
Funded by the Creative Europe Media programme, France's Centre Du Cinema Et De L'Image Animee and Eurimages, Collaborate To Innovate has already been approved for a second year, with a total budget of €2m (£1.7m).
Projects supported through the scheme 'must have a real impact on the film sector, promote the circulation and visibility of European films, develop their audiences, in particular young people, and increase the skills and competitiveness of cinemas', according to Europa Cinemas. The projects must also originate from European countries.
The core aim of Collaborate To Innovate is to develop prototypes that have the potential to be extended across the full Europa Cinemas network, which consists of 1,126 cinemas and 3,131 screens in 43 countries.
Exhibitors are also encouraged to integrate inclusion and environmental sustainability into their approach.
Three of the 15 projects originate or co-originate from France, with another three coming from Spain. Projects include Interrail Through Europa Cinemas, a Spanish project connecting eight venues in the country, coordinated by the Golem Madrid venue in Spain's capital city; and Hybrid Futures For European Cinemas, a Dutch project connecting 15 cinemas in the country, headed by LUX in Nijmegen.
"The scheme was launched at one of the most difficult times in the history of cinema, at a time when the pandemic was forcing closures of film theatres across Europe," said Claude-Eric Poiroux, Europa Cinemas general manager. "But the scheme really caught the imagination and inspired some really exciting entries. Collaborate To Innovate is already becoming a research and development resource not just for the network and European cinemas, but for the whole of the film industry."
"In the aftermath of the pandemic crisis, innovation and cooperation are key for revamping the cinema going experience, enlarging the audience for European audiovisual works and support an inclusive audiovisual ecosystem," added Lucia Recalde, head of Unit Creative Europe Media.
Collaborate To Innovate 2021 projects
Live Stream Collaboration Network (Austria) – project coordinator: Filmcasino (Vienna)
Arthouse cinema pass (Bel) – project coordinator: Cinema Galeries (Brussels)
Coastline Cinema (Cro) - project coordinator: Kino Mediteran (Split)
New collective innovative software for small-size cinemas (Est) - project coordinator: Tartu Elektriteater (Tartu)
Passerelle (Fr) - project coordinator: Cinemas Studio (Tours)
In Extenso The sound factory to hear the life of cinema theaters in Europe! (Fr) - project coordinator: Café des images (Herouville-Saint-Clair)
Imperceptibles (Secret European Festival) (Fr-Hun) - project coordinator: Cinema Le Balzac (Paris)
Z-Power. Young people back to the movies (It) - project coordinator: Area Metropolis 2.0 (Paderno Dugnano-MI)
Travel With Film Education (Lat-Lith) - project coordinator: Cinema Splendid Palace (Riga)
Hybrid Futures for European Cinemas (Neth) - project coordinator: LUX (Nijmegen)
ZEF – Filmowe Okno na Europe (Pol) - project coordinator: kino Amok (Gliwice)
European Films For Next Generation (Ser) - project coordinator: Bioskop Eurocinema (Subotica)
Streaming technology in movie theatres (Sp) - project coordinator: Cinebaix (Sant Feliu De Llobregat)
Project Viridiana (Sp) - project coordinator: Cines Lys (Valencia)
Interrail Through Europa Cinemas (Sp) - project coordinator: Golem Madrid (Madrid)