Yann Demange's thriller among five debut films nominated for European Discovery 2014.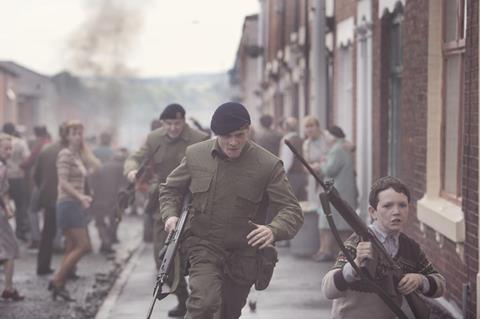 The European Film Academy has revealed the nominees for the European Discovery 2014 - Prix FIPRESCI, an award presented annually as part of the European Film Awards to a young and upcoming director for a first full-length feature film.
This year's nominations were determined by a committee comprised of EFA Board Members Ilann Girard (France) and Dagmar Jacobsen (Germany), EFA Members Paul Negoescu (Romania) and José Luis Cienfuegos (Spain), as well as Krzysztof Kwiatkowski (Poland), Marco Spagnoli (Italy) and Neil Young (UK) as representatives of FIPRESCI, the International Federation of Film Critics.
The nominated films are are:

10,000 KM
Spain
DIRECTED BY: Carlos Marques-Marcet
WRITTEN BY: Carlos Marques-Marcet & Clara Roquet
PRODUCED BY: Tono Folguera, Sergi Moreno, Jana Díaz Juhl, Danielle Schleif & Pau Brunet

'71
UK
DIRECTED BY: Yann Demange
WRITTEN BY: Gregory Burke
PRODUCED BY: Angus Lamont, Robin Gutch

Party Girl
France
WRITTEN & DIRECTED BY: Marie Amachoukeli, Claire Burger, Samuel Theis
PRODUCED BY: Marie Masmonteil & Denis Carot

The Tribe (Plemya)
Ukraine
WRITTEN & DIRECTED BY: Myroslav Slaboshpytskiy
PRODUCED BY: Valentyn Vasyanovych & Iya Myslytska

Wounded (La Herida)
Spain
DIRECTED BY: Fernando Franco
WRITTEN BY: Fernando Franco & Enric Rufas
PRODUCED BY: Koldo Zuazua

The nominated films will soon be submitted to the more than 3,000 EFA Members to elect the winner.
The trophy will be presented at the European Film Awards Ceremony in Riga on Dec 13.