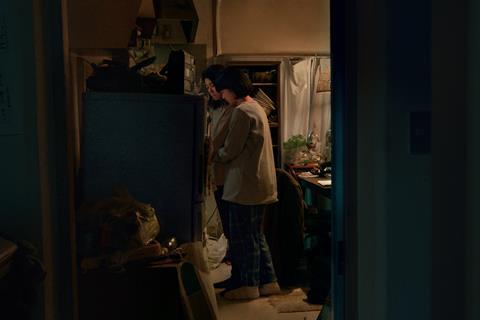 The 25th Busan International Film Festival (BIFF)'s New Currents Awards went to Harumoto Jujiro's Japanese film A Balance and Pak Ruslan's Kazakhstan-Korea-Uzbekistan co-production Three in a closed ceremony last night.
BIFF organisers announced the winners and closing results in a Zoom press conference this morning (October 30) in Busan.
The New Currents jury headed by director Mira Nair said of the top winners A Balance and Three: "Both are drawn by deep contemplation on human society, yet each has achieved its own unique cinematic language.
"Even with all the circumstances of pandemic, these two brilliant films guarantee the continuity and possibility of production of cinema, relentlessly re-addressing the ever important appeal to humanity as well as the challenging yet necessary acknowledgment of human weakness and failure."
BIFF chairman Lee Yong-kwan noted that unlike at the festival's line-up announcement press conference last month, the organisers were able to sit without masks – albeit distanced with plastic screens between them – thanks to the improved circumstances in South Korea with the Covid-19 pandemic.
Today and throughout the festival, organisers worked with a team of medical specialists and Busan City Hall to ensure safety measures were taken against the spread of the novel coronavirus.
"Most of all, I'd like to thank the citizens of Busan and our audiences who demonstrated world-class civic awareness for everyone to see. I'd say this year's edition was 'a festival of the audiences'," he said. He also thanked all the overseas filmmakers who participated in video call Q&As and talks as well as local filmmakers, of whom "100% came down to Busan to participate".
He referred to running this year's adjusted hybrid, downsized edition as a "learning period" which the festival would utilise in preparing for a more stable and innovative edition next year.
Adding limited screenings with nine seats each in the Busan Cinema Center's 26-seat Indieplus theatre, the festival was able to run on six screens in the end, and was able to add Community BIFF events in Nampo-dong so that the total physical attendance for the festival numbered 29,135 admissions.
Of these, 18,311 were for the Busan Cinema Center, equalling 92% of the venue's total socially-distanced seating capacity.
Online attendance for the Asia Contents Awards, Forum BIFF, Asian Film Awards and the Mira Nair masterclass totalled 30,204 views.
The festival held 135 Q&As. Of these, 90 were through video calls with filmmakers abroad and audiences in Busan, 45 were on-site in Busan with filmmakers in-country, one a hybrid that was live-streamed on YouTube (for A Time To Hunt), and two after simultaneous screenings were held in Busan and Vietnam (Sister Sister) and Busan and Thailand (School Town King), respectively.
Busan 2020 Full Winners List:
New Currents Award:
A Balance, dir. Harumoto Yujiro (Japan)
Three, dir. Pak Ruslan (Kazakhstan-Korea-Uzbekistan)
Kim Jiseok Award:
Drowning In Holy Water, dir. Navid Mahmoudi (Afghanistan-Iran)
The Slaughterhouse, dir. Abbas Amini (Iran)
BIFF Mecenat Award:
The Art Of Living In Danger, dir. Mina Keshavarz (Iran-Germany)
Sister J, dir. Lee Soojung (S. Korea)
*Special Mention: Self-portrait 2020, dir. Lee Dongwoo (S. Korea)
Sonje Award:
Georgia, dir. Jayil Pak (S. Korea)
Mountain Cat, dir. Lkhagvadulam Purev-Ochir (Mongolia-United Kingdom)
Actor & Actress of the Year Award:
Jisoo, Our Joyful Summer Days (S. Korea)
Lim Seong-mi, Fighter (S. Korea)
Flash Forward Award:
Tigers, dir. Ronnie Sandahl (Sweden-Italy-Denmark)
FIPRESCI Award:
Summer Blur, dir. Han Shuai (China)
NETPAC Award:
Fighter, dir. Jero Yun (S. Korea)
DGK-MEGABOX Award:
Young Adult Matters, dir. Lee Hwan (S. Korea)
Good Person, dir. Jung Wook (S. Korea)
CGV Arthouse Award:
Good Person, dir. Jung Wook (S. Korea)
KTH Award:
Snowball, dir. Lee Woo-jung (S. Korea)
Young Adult Matters, dir. Lee Hwan (S. Korea)
KBS Independent Film Award:
Limecrime, dir. Lee Seunghwan & Yoo Jaewook (S. Korea)
CGK&SamyangXEEN Award:
Snowball, cinematographer Lee Jae-u (S. Korea)