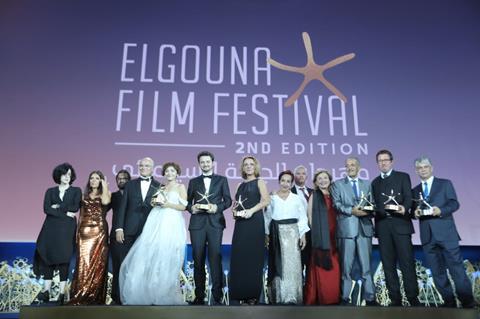 Singaporean filmmaker Yeo Siew Hua's A Land Imagined won the Golden Star in the Feature Narrative competition at the second edition of Egypt's El Gouna Film Festival, which wrapped on Friday night.
The film, which recently won the Golden Leopard at this year's Locarno film festival, follows a detective investigating the disappearance of a migrant worker.
Ray & Liz, directed by the UK's Richard Billingham, won the Silver Star in the same competition, while the Bronze Star went to The Heiresses from Paraguay's Marcelo Martinessi.
Yomeddine, a first-time feature from Egypt's A.B. Shawky, took the prize for Best Arab narrative feature, as well as sharing the Cinema for Humanity audience award with Polish-Spanish co-production Another Day Of Life.
Best actress went to Joanna Kulig for her performance in Pawel Pawlikowski's Cold War, while Mohamed Dhrif won best actor for Mohamed Ben Attia's Dear Son.
In the Feature Documentary section, Victor Kossakovsky's Aquarela took the Golden Star, while Talal Derki's Of Fathers And Sons won both the Silver Star and best Arab documentary. Juanita Onzaga's Our Song To War won the Golden Star in the Short Film competition (see full list of winners below).
In total the festival handed out awards with cash prizes worth a combined $220,000, with the top narrative film taking home $50,000, while prize money at the accompanying CineGouna Platform (CGP) projects market totalled $175,000 (see list below).
In addition to the three competition sections, El Gouna's line-up also included an Out of Competition section, which screened recent festival hits such as Happy As Lazzaro, Shoplifters, Peterloo, The Old Man & The Gun and the world premiere of Egyptian drama Gunshot. The Special Presentation section had tributes to Ingmar Bergman, Federico Fellini and Youssef Chahine.
The festival, which opened on September 20 with French director Thomas Lilti's The Freshmen, takes place in the resort town of El Gouna, owned by one of its founders, Egyptian billionaire Naguib Sawiris.
According to festival organisers, this year's edition surpassed last year's total ticket sales of more than 8,000 on the third day of the event. In addition to the local population in El Gouna and neighbouring Red Sea resorts, audience had flown in from major Egyptian cities and some other countries in the region, while the festival also hosted 700 international guests.
"Our challenge here is that we need to balance the needs of the local audience, which doesn't get to see these kinds of films in Egyptian cinemas, and international guests who may have seen them on the festival circuit," said artistic director Amir Ramses. "That's why we have the competition for great films that maybe didn't get huge attention at recent festivals and the special screenings for films that already won big prizes."
He added that although regional industry has been saying El Gouna could benefit from the recent shuttering of Dubai International Film Festival, "there are still not enough platforms for Arab cinema in the region", even with a revitalised Cairo film festival in November and the relaunch of Marrakech film festival.
Festival director Intishal Al Timimi added that El Gouna is also seeking a balance between the red carpets events and prize money necessary to build its profile (events this year included a Youssef Chahine tribute concert and performance by Egyptian singer Amr Diab) and more serious elements such as strong programming and the CGP, which encompasses a projects market and industry panel discussions.
"We decided to have all the aspects of a big film festival right from the beginning, and as we succeeded with our first edition and got huge coverage, we've built the industry's trust," said Al Timimi. "Now the films are coming to us, rather than us having to chase them, and we intend to increase the number of world and international premieres in coming years."
International stars at the festival included Sylvester Stallone, who was presented with a lifetime achievement award at the closing ceremony, Owen Wilson, Patrick Dempsey and Clive Owen.
Reflecting the complex politics of the region, the festival lost a couple of guests who were denied visas to enter Egypt, including Palestinian actor Ali Suliman, who was on the narrative feature jury, and Syrian director Soudade Kaadan, whose debut narrative feature The Day I Lost My Shadow played in competition.
EL GOUNA FILM FESTIVAL 2018 WINNERS:
FEATURE NARRATIVE COMPETITION
Golden Star – A Land Imagined, Yeo Siew Hua (Singapore, France, Netherlands)
Silver Star – Ray & Liz, dir: Richard Billingham (UK)
Bronze Star – The Heiresses, dir: Marcelo Martinessi (Germany, Brazil, Paraguay, Uruguay, France, Norway)
Best Arab Narrative Film – Yomeddine, dir: A.B. Shawky (Egypt)
Special Mention – The Man Who Surprised Everyone, dirs: Natasha Merkulova, Aleksey Chupov (Russia, Estonia, France)
Best actress – Joanna Kulig, Cold War (Poland, UK, France)
Best actor – Mohamed Dhrif, Dear Son (Tunisia, Belgium, France)
FEATURE DOCUMENTARY COMPETITION
Gold Star – Aquarela, dir: Victor Kossakovsky (UK, Germany, Denmark)
Silver Star – Of Fathers And Sons, dir: Talal Derki (Germany, Syria, Lebanon)
Bronze Star – The Swing, dir: Cyril Aris (Lebanon)
Best Arab Documentary Film – Of Fathers And Sons, dir: Talal Derki (Germany, Syria, Lebanon)
SHORT FILM COMPETITION
Golden Star – Our Song To War, dir: Juanita Onzaga (Colombia, Belgium)
Silver Star – Judgement, Raymund Ribay Gutierrez (Philippines)
Bronze Star – Sheikh's Watermelons, dir: Kaouther Ben Hania (Tunisia, France)
Best Arab Short Film – EyeBrows, dir: Tamer Ashry (Egypt)
Cinema For Humanity Audience Award (ex-aequo)
Another Day Of Life, dirs: Raúl De La Fuente, Damian Nenow (Poland, Spain)
Yomeddine, dir: A.B. Shawky (Egypt)
CINEGOUNA PLATFORM MAIN AWARDS
GFF Award – 1982, dir: Oualid Mouaness (Lebanon)
GFF Award – Embodied Chorus, dir: Mohamed Sabbah (Lebanon)
Arab Radio & Television – Barzakh, dir: Laila Abbas (Palestine)
Cedars Art Production – Barzakh, dir: Laila Abbas (Palestine)
MBC Group – Barzakh, dir: Laila Abbas (Palestine)
Maqam Productions – Fouledh, dir: Mehdi Hmili (Tunisia)
iProductions – Gaza DC, dir: Rashid Masharawi (Palestine)
DISCLOSURE: The writer of this article, Liz Shackleton, was a member of the short film competition jury.