The producers behind a low budget film designed to cheat the taxman out of £2.7m ($4.1m) have received jail sentences at Southwark Crown Court in the UK. Screen has spoken to director Paul Knight about the project.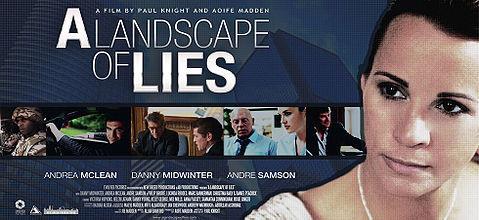 Evolved Pictures' bosses Bashar Al-Issa and Aoife Madden have both received prison sentences. Al-Issa faces a six-and-a-half year sentence while Madden has been sentenced to four years eight months in jail.
Tariq Hassan (four years), Osama Al Baghdady (four years) and Ian Sherwood (three-and-a-half years) were also sentenced for their part in the attempted £2.7 million tax fraud.
Al-Issa, Madden and the other principals of Evolved were convicted earlier this month of making fraudulent tax credit and VAT claims on A Landscape Of Lies.
They had suggested they had a budget of more than £19m ($28.9m) provided by a Jordanian company for a gangster movie originally to be called A Landscape Of Lives. The film they ended up making though - the similarly titled A Landscape Of Lies - was actually shot for £84,000 ($128,000).
Evolved Pictures' 2010 accounts were audited by Deloitte.
"If all the entries were not genuine you would have expected Deloitte to have picked that up," noted one UK film tax expert.
Deloitte gave evidence during the trial and highlighted their own suspicions about the lack of supporting information Evolved provided.
Christine Corner, a partner at media and entertainment accountants Grant Thornton, said: "I think the crazy thing they (the producers) did was they went for such a big budget film. If you're making a £20 million film in the UK, that's a big deal.
"There are fraudsters in all industry sectors not just film. It is up to auditors, investors and the tax authorities to be alert to this."
On the day the producers were sentenced, director Paul Knight [pictured] revealed just how he came to collaborate with them on A Landscape Of Lies.
Director speaks
Knight has told Screen that he was originally approached by Al-Issa and Madden of Evolved Pictures to re-write a script for a family animated feature based on Robin Hood.
"The carrot on the stick was that if we could get Landscape Of Lies done, there was this Robin Hood film," said Knight, who was at New Breed Productions at the time.
"On top of that, as an independent filmmaker, I was being promised to have my next five projects funded. I had several meetings with them. Then, they just went quiet, they disappeared.
"Obviously, now it has come out they were arrested."
AFM deadline
Following their initial arrest in April 2011 on suspicion of tax fraud, the Evolved producers re-contacted Knight.
They commissioned him to make A Landscape Of Lies, telling him that it needed to be completed by October, ostensibly to be ready in time to be sold at that year's American Film Market.
Knight re-wrote the screenplay in days. "We were casting while we were filming. We literally just had four months."
Bashar Al-Issa told him the film was to have Hurt Locker-style special effects on the war scenes, A-list actors and was to be shot in 3D.
"I said what's your budget. He said well, we've got £100,000."
TV stars
Knight managed to finish the film, which starred Loose Women presenter Andrea Mclean and former EastEnders actor Marc Bannerman, in four months. He claims he was never paid, although his cast and crew were.
With the producers under investigation by HMRC, there was no way to exploit the film commercially. However, it was shown at several festivals, including in Las Vegas and in Marbella.
Knight hopes the rights to the film will now revert to him "so we can get it out to the general public."
The film-maker ended up giving evidence for the prosecution in the case against his own producers.
"Why they (the producers) thought making a quick £100,000 low budget film would pass as a £20 million blockbuster, I have no idea," Knight commented.
Director rebate
Knight says that HMRC initially thought he may have been implicated in the scam. "They did an eight-year tax audit on me, hoping to find something, but all they found was that they owed me a £3,000 rebate - so thank you very much tax man."
He added: "They (the media) keep on saying it (A Landscape Of Lies) was a film flop. Well, the film never got released. I don't see how it was a flop.
"It went on to win an award and be shown at several film festivals. They don't show crap. It obviously had something. It is just a shame that it has been tarnished."
Future projects
Knight has two new projects in the pipeline for which he is trying to find "honest" investors: action revenge film Skorned, with Darren S Cook; and 'No Man's Land, a First World War-themed supernatural thriller, with creature designer Karl Derrick at the helm.
They are being developed through London Knights Productions.
Knight added: "It (A Landscape Of Lies) was meant to kickstart my career. All it has done is held it in limbo for two years."