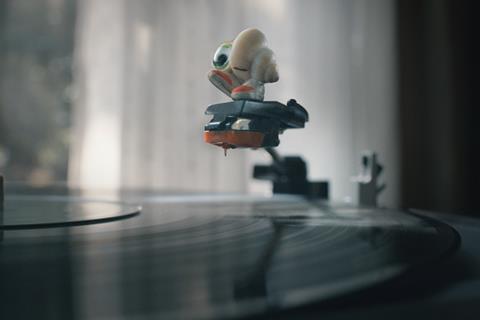 A24 has picked up North American rights to Dean Fleischer Camp's Telluride premiere and stop-motion animation Marcel The Shell With Shoes On featuring Isabella Rossellini.

Based on Camp's popular stop-motion animated shorts of the same name that have drawn more than 50m views on YouTube since their 2010 debut, the film follows the exploits of one-inch-high shell who lives with his grandmother Connie and their pet lint, Alan.
As a survivor of a mysterious tragedy that took him away from a once sprawling community of shells, Marcel gets a chance to reunite with his kin when a documentary filmmaker discovers them amongst the clutter of his Airbnb and posts a short film online that brings Marcel millions of passionate fans.
Camp co-wrote the screenplay with Jenny Slate and Nick Paley from a story by Camp, Slate, Paley, and Elisabeth Holm.
Marcel The Shell With Shoes On premiered at 2021 Telluride Film Festival and stars Slate, Isabella Rossellini, Rosa Salazar, Thomas Mann, and Lesley Stahl.
Elisabeth Holm, Andrew Goldman, Caroline Kaplan, Paul Mezey, Camp, Slate, and Terry Leonard produced the Cinereach Production in association with Chiodo Bros. Productions. Executive producers are Philipp Engelhorn, William Byerley, Nion McEvoy, George Rush, and Michael Raisler.
The animation director is Kirsten Lepore, supervising animation director is Stephen Chiodo, and animation producer is Edward Chiodo.
WME Independent and CAA Media Finance negotiated on behalf of the filmmakers.