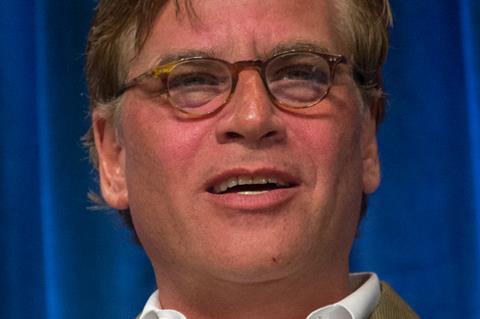 Oscar-winning screenwriter Aaron Sorkin will open the Toronto International Film Festival's TIFF Industry Conference on September 8 with a masterclass as festival brass unveiled a slew of A-list additions to the programme.
Sorkin, whose whose feature directorial debut Molly's Game starring Jessica Chastain and Idris Elba premieres in Toronto, is one of several high-level additions to the programme announced by TIFF industry director Kathleen Drumm and will speak at 9.30am.
"[Sorkin] is going to talk about all facets of storytelling as well as his new film," Drumm said. "A strong theme for us in the conference this year is the importance of storytelling – not just in terms of the power of great writing, but how film and other media can break down barriers between people. We're really excited to have someone of Aaron's calibre come here."
Drumm also told Screendaily that Bong Joon Ho will deliver a masterclass on September 11 (1.30-2.30pm). "Okja incited a debate [in Cannes] about what is cinema. He is one of the most exciting directors to emerge from South Korea in the last 20 years."
On September 13 (1.30pm) audiences will get the chance to hear Louis C.K. talk about his latest directorial outing, I Love You, Daddy. The comedian and filmmaker will take part in the TIFF Long Take live podcast. "It's an edgy comedy that promises a ruthless observation of Hollywood and was made outside the system," Drumm said.
First-time director and Australian star of The Mentalist Simon Baker will discuss his feature Breath on September 10 (10.45am-12.15pm) in a conversation that explores how directors and cinematographers work together. Baker will be joined by DP Marden Dean and water cinematographer specialist Rick Rifici.
Earlier in the same day a Dialogue session (9.30-10.30am) will feature two sets of directors and key collaborators discussing their work. Brie Larson, the Oscar-winning star of TIFF 2015 audience award winner Room, will talk about her feature directorial debut Unicorn Store with producer Lynette Howell Taylor. The same session will hear from Professor Marston & The Wonder Women director Angela Robinson and star Rebecca Hall.
All events will take place at Glenn Gould Studio a few minutes walk from TIFF Bell Lightbox and join the previously announced industry schedule.
"We feel very excited about the programme and feel this is the strongest that TIFF has delivered," Drumm said. "We really thought hard about creating an environment where people who come to the conference will either feel incredibly inspired or go away with practical skills and knowledge."