First image released from the feature co-financed by Fox Searchlight Pictures and BBC Films.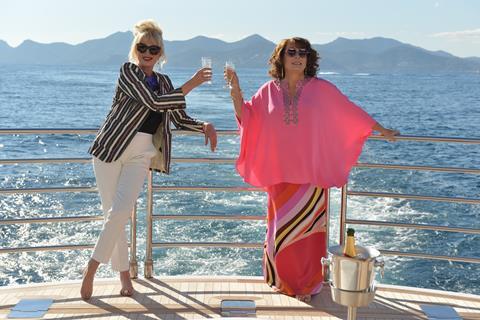 Fox Searchlight Pictures and BBC Films have announced that principal photography has begun on Absolutely Fabulous: The Movie.
It marks first cinematic outing for the long running comedy and is shooting on location in the UK and the south of France for seven weeks.

The film reunites Jennifer Saunders and Joanna Lumley as Edina and Patsy along with the rest of the original cast that includes Julia Sawalha as Saffy, Jane Horrocks as Bubble and June Whitfield as Mother.
The team behind the camera includes Mandie Fletcher (Blackadder, Absolutely Fabulous) directing from a script by Saunders, producers Jon Plowman (Absolutely Fabulous) and Damian Jones (The Iron Lady, Belle). Jones is also producing the upcoming film version of Dad's Army.
Executive producers are Steve Milne, Christian Eisenbeiss, Christine Langan, Nichola Martin, Jennifer Saunders, Dawn French and Maureen Vincent serving as executive producers.
The film will be released in 2016.
"I am thrilled and excited to finally start filming. We are all on the Sanatogen and hoping for the best," said Saunders.
In the film, Edina and Patsy are blamed for a major incident at a fashionable launch party and become entangled in a media storm, relentlessly pursued by the paparazzi. Fleeing penniless to the French Riviera, they hatch a plan to make their escape permanent.
The cast will be joined by "A-list stars" from the acting, music and fashion worlds, according to the production.
DanTram Nguyen, VP of production and Katie Goodson-Thomas, director of production will oversee the project for Fox Searchlight Pictures.