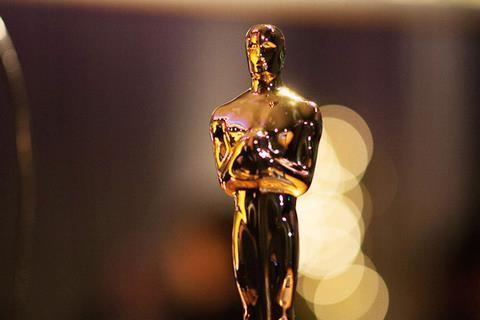 The Academy has ruled that films whose planned theatrical releases were scrapped amid the coronavirus pandemic and went on to debut on streaming or VOD platforms will be eligible for Oscar consideration "for the 93rd Awards year only".
The rule change applies so long as the film be made available on the secure Academy Screening Room member-only streaming site within 60 days of its streaming or VOD release, and meets other eligibility requirements.
The rule change will cease to have effect "[o]n a date to be determined by the Academy, and when theatres reopen in accordance with federal, state and local specified guidelines and criteria."
All subsequent releases will be expected to comply with standard Academy theatrical qualifying requirements.
The 93rd Oscars are still scheduled to take place on February 28, 2021, and will be broadcast on ABC.
To make it easier for distributors to meet theatrical exhibition requirements when theatres reopen, the Academy also will expand the number of qualifying theaters beyond Los Angeles County to include venues in additional US metropolitan areas: the City of New York; the Bay Area; Chicago, Illinois; Miami, Florida; and Atlanta, Georgia.
Festivals that have been impacted by the pandemic are allowed to provide films online through either a transactional pay wall or password-protected entry, which will not affect the films' eligibility for future Oscar qualification.
The Academy will grant an exemption for those films released online through an impacted festival's online platform, provided that proof of inclusion in the festival is submitted. This component of the rule change is likely to be embraced in particular by distributors of arthouse and foreign-language films. Festival films will be expected to comply with all other eligibility requirements for the 93rd Academy Awards.
"The Academy firmly believes there is no greater way to experience the magic of movies than to see them in a theatre," said Academy president David Rubin and CEO Dawn Hudson. "Our commitment to that is unchanged and unwavering. Nonetheless, the historically tragic Covid-19 pandemic necessitates this temporary exception to our awards eligibility rules. The Academy supports our members and colleagues during this time of uncertainty. We recognise the importance of their work being seen and also celebrated, especially now, when audiences appreciate movies more than ever."
The move follows a delayed meeting of the board of governors, who unveiled several other changes:
Sound mixing and sound editing have been combined into one award for best achievement in sound. Up to six statuettes may be awarded, and eligible recipients may include one production sound mixer, two supervising sound editors and three rerecording mixers.
For an original music score to be eligible, it must comprise a minimum of 60% original music. Sequels and franchise films must contain a minimum of 80% new music.
In a procedural change in the international feature film category, all eligible Academy members will now be invited to participate in the preliminary round of voting. For the first time, film submissions will be made available through the Academy Screening Room streaming platform to those members who opt-in. These members of the international feature film preliminary voting committee must meet a minimum viewing requirement in order to be eligible to vote in the category.