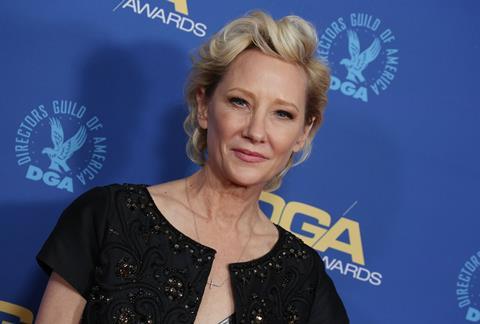 Anne Heche has been taken off life support, nine days after the US actress fell into a coma from injuries sustained in a car crash in Los Angeles. She was 53.

Heche's film credits included Donnie Brasco, Volcano, Six Days Seven Nights, Wag The Dog and I Know What You Did Last Summer.
"Anne Heche has been peacefully taken off life support," her agent said in a statement to press on Sunday (August 14).
Ellen DeGeneres, the US celebrity and talk show host who was Heche's partner from 1997 to 2000 in one of Hollywood's first openly gay relationships, joined others from the entertainment business in paying tribute to Heche and called it "a sad day".
Heche was declared brain dead on Friday, which under California law means she was legally dead even though at the time her heart was still beating while doctors assessed the viability of organ donation.
AUGUST 12 REPORT: US actress Anne Heche has been declared legally dead following injuries sustained in a car crash last week.

Heche is in a coma on life support and her heart continues to beat while doctors determine whether her organs can be donated.

A statement from family and friends said, "Today we lost a bright light, a kind and most joyful soul, a loving mother, and a loyal friend.
"Anne will be deeply missed but she lives on through her beautiful sons, her iconic body of work, and her passionate advocacy. Her bravery for always standing in her truth, spreading her message of love and acceptance, will continue to have a lasting impact."
"My brother Atlas and I lost our Mom," Heche's son Homer Laffoon said. "After six days of almost unbelievable emotional swings, I am left with a deep, wordless sadness. Hopefully my mom is free from pain and beginning to explore what I like to imagine as her eternal freedom. Over those six days, thousands of friends, family, and fans made their hearts known to me. I am grateful for their love, as I am for the support of my Dad, Coley, and my stepmom Alexi who continue to be my rock during this time. Rest in peace Mom, I love you, Homer."
The 53-year-old actress, whose film credits include Donnie Brasco, Volcano, Six Days Seven Nights, Wag The Dog and I Know What You Did Last Summer, crashed into a two-storey house in Los Angeles on Friday, August 5.
The car and property were "engulfed in flames", according to police, with firefighters tackling the blaze for more than an hour.
Heche is being cared for at Grossman Burn Center at West Hills Hospital in LA.