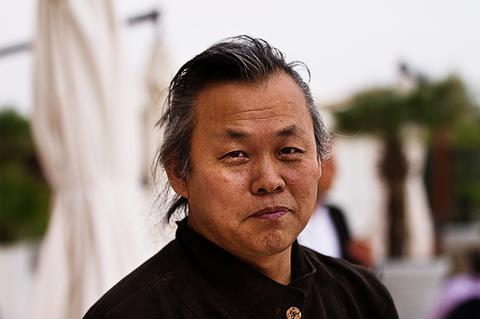 In South Korea, an unnamed actress has spoken out against internationally acclaimed director Kim Ki-duk, who has been accused of violence and sexual abuse on set.
At a press conference yesterday in Seoul, she said she will appeal prosecutors' decision on December 7 not to pursue part of the charges she brought against him.
Speaking behind a white screen at the Korea Sexual Violence Relief Center, the actress said in a shaking voice: "It's not that I'm showing up after four years to bring charges. This case has taken a whole four years just to bring charges."
Winner of the Venice film festival's 2012 Golden Lion for Pieta, Kim Ki-duk is also known for films such as his autobiographical Arirang, which picked up Cannes' Un Certain Regard award in 2011.
"Actress A" - as she is referred to in local media, was supported by a joint committee of women's advocates and lawyers that was formed in July to deal with "the Kim Ki-duk incident". This was after she took her grievance to the Korea Federation of Movie Workers' Union in January and they carried out an independent investigation.
According to the committee, the actress started working on the production of Moebius in early March 2013. She says the director slapped her three times in front of the crew, which Kim stated in a press release was in order to direct her performance.
She also accused the director of forcing her to take hold of an actor's penis when it had been pre-arranged that they use a prosthesis.
Later, production company Kim Ki-duk Film stated she had abandoned the production without leave, a claim she disputes as false and damaging to her career.
She was replaced on Moebius and the film later screened out of competition in Venice 2013.
The prosecutors' office chose to bring summary indictment only on the charges of assault, asking for a $4,600 (KW5m) fine. They declined to follow up on charges relating to coercion, sexual molestation and defamation.
At the press conference, the actress spoke of suffering from fear, shame and persecution and added she had notified Womenlink, a support center for equal rights, in June of 2013.
Fear of the stigma commonly associated with psychiatric treatment in Korea initially blocked her from going to the hospital, but eventually she was diagnosed with post-traumatic stress disorder.
Actress A said that in early days when she went to film industry lawyers and acquaintances for help, "most of the advice was to just forget about it". "They asked, 'What kind of chance would you stand against a globally known director?'"
The committee has asked the courts for a formal trial in order to "bring the truth to light".