EXCLUSIVE: Prime Focus World and Anima Estudios co-pro written by Ice Age: The Meltdown writer.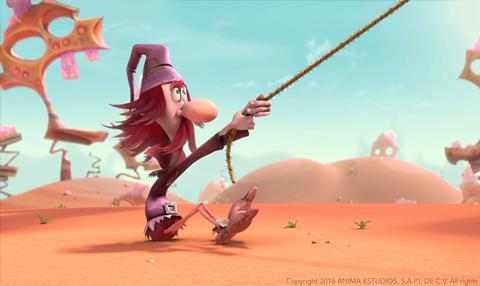 Screen can reveal the first-look at GFM Animation title Here Comes The Grump, currently in production for London based Prime Focus World and Latin American animation kingpin Anima Estudios.
The film will chart the story of a teenage boy who is magically transported to a far-away land where he must ward off a mean-spirited wizard called The Grump.
Based on a script from Ice Age: The Meltdown screenwriter Jim Hecht, with designs by Craig Kellman (character designer on both Madagascar and Hotel Transylvania), the project is adapted from the animated cartoon TV series by Mirisch-Geoffrey Depatie-Freleng Enterprises, makers of the Pink Panther series.
"Animation is well underway and the film will be completed in the first part of 2017. Our artists are pushing the limits to put as much quality and humor into every last frame," said Greg Gavanski, Prime Focus' London-based animation head.
Bill Schultz, the former animation producer on The Simpsons, is consulting on the project, which is one of the first on GFM's dedicated animation label.