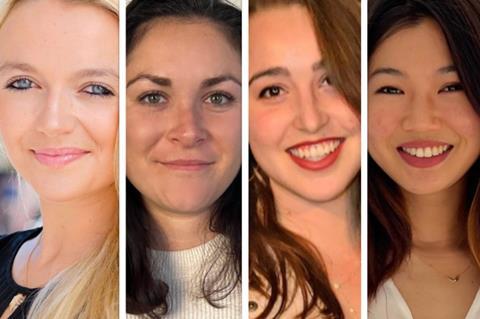 AGC Studios and its unscripted, non-fiction subsidiary AGC Unwritten have assembled the development team as AGC Unwritten president Joel Zimmer continues to build out the division.
Joining the company are Emily Knight as vice-president of development, Yael Egnal as senior manager of development and Hannah Shuman as manager of development, while Moriah Lee joins as development coordinator.
AGC Unwritten works on unscripted content including TV feature and TV documentaries and has projects in development at Peacock and Netflix. It is in post-production on a feature documentary in partnership with Matt Heineman's Our Time Productions.
Knight joins from the UK with a specialty in creating and selling large-scale global original formats across multiple genres. Most recently, she served as was head of development at Expectation in London where she ran the factual slate, overseeing commissions for several networks including the BBC and Netflix. Prior to that, she was head of development for the UK arm of All3 Media's Maverick TV, and before that worked in production.
Egnal most recently served as manager of development at Xpedition and as part of the team that developed HGTV's sensation Table Wars. She previously worked with A24, College Humor, and NBC.
Shuman previously served as manager of current programming at CNN Original Series and began her career at NBCUniversal where she developed unscripted programming across multiple brands, including Peacock, USA, Bravo, and Oxygen. Lee arrives from Magnum, P.I. where she was a department coordinator.
Industry veteran Zimmer was brought on as president and equity partner of AGC Unwritten with a mandate to develop, finance, produce and distribute a range of unscripted and alternative programming.
Earlier this year AGC Television's documentary The Tinder Swindler became Netflix's most watched documentary ever and the first to top Netflix's list of its most popular films worldwide. The company has also co-financed three documentaries with CNN Films: Lady Boss: The Jackie Collins Story, John Lewis: Good Trouble, and Scandalous: The True Story Of The National Enquirer.