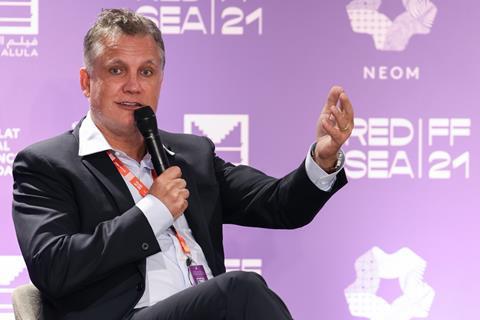 Saudi Arabia-shot action picture Desert Warrior will be a gamechanger for the country's fledgling film industry and the entire MENA region, said AGC Studios CEO Stuart Ford during a talk at the Red Sea International Film Festival (RSIFF) in Jeddah on Wednesday.
The seventh-century desert kingdom saga starring Anthony Mackie and Aiysha Hart is in the final week of shooting in the Neom region in the north-west province of Tabuk.
AGC Studios is producing the film with JB Pictures, in partnership with MBC Studios, the in-house production arm of regional media and entertainment giant MBC Group.
With a budget in excess of $100m, it is the biggest production to shoot in Saudi Arabia since the lifting of its 35-year cinema ban. "Desert Warrior is something of a statement movie, certainly, for the Saudi film industry, but actually for the entire Arab-speaking region," said Ford.
"What Desert Warrior will show is that you can produce a large scale tentpole, I wouldn't say a Hollywood film but rather an international film with global audience reach, right here in this part of the world.
"This is a film being made to a scale that is designed to compete on a global level. And that's something of a first."
Ford was talking at a case study panel on the opening day of RSIFF's Red Sea Souk market, also featuring MBC Studios KSA general manager Zeinab Abu Alsamh.
Riyadh-based executive Abu Alsamh, who oversees all production in Saudi Arabia for MBC Studios, said it had been important that this first foray into a big-budget international production chimed with Saudi culture. "We wanted to share a story that is rooted in this region and is historically accurate but that would have elements to travel," she said.
UK-born Ford has spent his career as a conduit between Hollywood, global financiers and territories with big international ambitions, pioneering business links with China, for example, as it was taking off under the banner of his previous company IM Global.
He signalled the Arab world was also now a key area of focus for AGC Studios, as the Middle East and North Africa content scene ratchets up a notch with the arrival of Saudi Arabia in the market as well as growing demand from diaspora audiences and appetite generally for non-English language content.
"There has been a very long-standing and well-respected filmmaking tradition in the Arab-speaking world but it's probably fair to say that for the most part, it's concentrated on the local audience," Ford suggesed. "As the level of sophistication and investment in film and TV goes up and up and up, it becomes inevitable that the aspiration of these productions needs to be more global."
Ford said he saw parallels between the aspirations of Saudi Arabia, as it rebuilds its cinema business, and those of China a decade ago, such as a desire to create an industry and creative class, to build infrastructure, to create jobs, and even promote tourism off the back of productions.
"But you also have a huge diaspora audience of Arabic speakers around the world who for the most part, have not been well served," he said. "We're living in a great time right now, where the appetite of the international audience for non-English speaking premium film and TV is growing more and more significant, which creates a great opportunity for the industry here [Saudi Arabia} and in the rest of the Arab speaking world to export its productions. That's where we traditionally have been an active player and will be increasingly more active. It's a major area of focus for us."
Ford noted that as well as Desert Warrior, AGC Studios was also involved in Emirati action picture The Ambush, via its corporate partner and backer Image Nation Abu Dhabi. Based on the true story of Emirati special forces caught in an ambush, it is proving a hit in the UAE were it was released last week.
"It dovetails nicely with Desert Warrior. It is also a movie of huge ambition and scale. I'm pretty sure it's the biggest budget Arabic-language film ever made and that it's on track to be the highest-grossing film of any description in the UAE this year, including Hollywood tentpoles. That in itself makes it something of a watermark film."