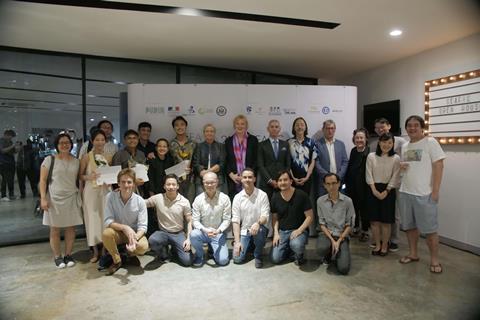 Ajooma, to be directed by He Shuming and produced by Singapore's Tan Si En, won the SEAFIC Award at the conclusion of the Southeast Asia Fiction Film Lab (SEAFIC) in Bangkok.
The project, which picked up a cash prize worth $15,000, follows a middle-aged, Korean-drama obsessed widow from Singapore who travels to Seoul and promptly gets lost.
Jury members for the award include Killer Films CEO Christine Vachon, Jacob Wong, director of the Hong Kong-Asia Film Financing Forum (HAF) and Meinolf Zurhorst, head of fiction at ZDF/arte.
Singaporean filmmaker Ang Geck Geck's Ah Girl picked up the Open SEA Fund Award, jointly sponsored by Thailand's VS Service and White Light Post, which includes rental credit towards equipment from VS Service worth $10,000 and post-production services provided by White Light Post worth $15,000.
Produced by Singapore's Fran Borgia, the project follows a seven-year-old girl who has to make a choice between living with her mother or father, a decision that will change her life forever.
Meanwhile, Raising A Beast from Laos the picked up the SEAFIC-TFL Award and will attend this year's TorinoFilmLab Meeting Event (November 23-24), with flight and accommodation covered.
Directed by Xaisongkham Induangchanthy, with Steve Arounsack as co-producer, the film is about two Hmong siblings who are responsible for grooming a bull into a prize fighter that will earn the family money and honour.
In total five projects were selected for this round of SEAFIC and went through eight months of intense script and project development under the guidance of international experts, culminating in the SEAFIC Open House event (Nov 3-5). The other two projects were Thai filmmaker Sorayos Prapapan's Arnold Is A Model Student and Crocodile Tears from Indonesia's Tumpal Tampubolon.
In addition to partnerships with Produire au Sud and TorinoFilmLab, SEAFIC also has a partnership with Link of Cine-Asia, organised by Busan Film Commission and Asian Film Commissions Network. Held in parallel with last month's Busan International Film Festival (BIFF), Link of Cine-Asia sponsored the five SEAFIC producers from this year to travel to Busan and pitch at their forum.