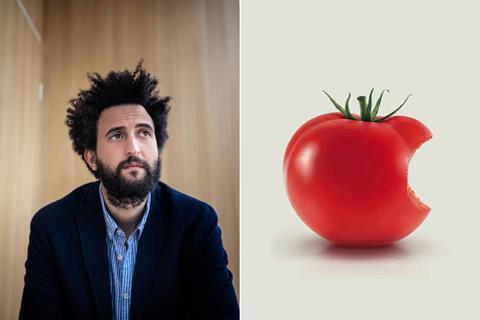 International Film Festival Rotterdam (IFFR) has selected 20 feature projects for the 40th edition of its CineMart co-production market, including Eldorado, the next feature from The Unknown Saint director Alaa Eddine Aljem.
The project follows a group of migrants seeking to reach the secret utopian island of Eldorado, who actually end up in a factory of the same name that produces tomato sauce.
Scroll down for the full CineMart 2023 selection
The project is being produced by Francesca Duca for Morocco's Le Moindre Geste.
Aljem's debut feature The Unknown Saint debuted in Critics' Week at Cannes 2019, and was sold worldwide by The Match Factory.
Other CineMart 2023 titles include John Skoog's Redoubt, a continuation of his 2014 short of the same name about a farm-worker who has turned his home into a fortress. Sweden's Plattform Produktion produces the title.
The 20 feature projects is up on the 16 selected for 2022's CineMart, and the 17 for 2021.
In Little War, Barbara Sarasola-Day depicts an Anglo-Argentinian family living at the foot of the Andes mountains, who confront the oncoming Malvinas (Falklands) war.
Two UK titles are in the selection: Jack Goessens' Boifriend, a character-driven story on the fluidity of gender and sexuality, produced by Bombito Productions; and Ali Jaberansari's The Surrogate, produced by The Lift from Mexico and Here & There Productions from the UK.
The CineMart selection also includes five immersive projects, including Iris van der Meule's Gay Simulator, an interactive virtual reality artwork and video game which will immerse the user in the experiences of a lesbian girl. All projects will pitch the co-production market from January 29 to February 1, in the first in-person edition since 2020.
"In fragmented times, bringing together incredible filmmakers and projects from so many different territories continues to be an invaluable contribution to filmmaking across the world," said Inke Van Loocke, head of IFFR Pro, the industry platform of IFFR. "It will be a heartwarming feeling to experience the buzz of a proper IFFR in 'de Doelen' again." Van Loocke is running the industry platform for the first time, having replaced previous head Marit van den Elshout.
The full IFFR Pro will run from January 25 to February 5, concurrent with the festival's dates. The IFFR Pro Hub will open its programme of roundtables and expert sessions from January 27, while awards will be presented to industry projects on January 31.
The festival has also added IFFR Pro Darkroom, a programme of work-in-progress screenings for former CineMart and Hubert Bals Fund projects to update on their progress. Presentations to international sales agents, programmers and buyers will take place on February 1.
IFFR CineMart 2023 selection
108 Days (Indonesia) dir. Lucky Kuswandi, prod. Palari Films
7 P.M. on a Sunday (Fin) dir. Sevgi Eker, prod. Helsinki-filmi Oy
Apetown (S Afr) dir. Kurt Oderson, prod. Apetown Productions, BuMP Films, Azania Rizing Productions, Serious Films
Boifriend (UK) dir. Jack Goessens, prod. Bombito Productions
The Burning Giants (Thai) dir. Phuttiphong Aroonpheng, prod. Diversion
Brace Yourself (S Afr-Neth) dir. Thati Pele, prod. Urucu, Baldr Film
Cerro Corá (Arg-Par-Braz) dir. Francisco Marquez, prod. Pensar con las manos, Tekoha, Terceira Margem, Multiverso
Consider Vera (Ukr) dir. Marina Stepanska, prod. Esse Production House
Eldorado (Mor-Fr) dir. Alaa Eddine Aljem, prod. Le Moindre Geste, In Vivo Films
Eyes Closed (Neth) dir. Jenneke Boeijink, prod. Bind
Grushka (Neth-Bel) dir. Marta Parlatore, prod. Volya Films, A Private View
Las tierras que te buscan (Col) dir. Juanita Onzaga, prod. Marginal Cine
Little War (Arg) dir. Barbara Sarasola-Day, prod. Pucara Cine
The Poison Cat (China) dir. Tian Guan, prod. Beijing Guanyu Film
Redoubt (Swe) dir. John Skoog, prod. Plattform Produktin, BCD Film
Remanso (Par-Braz-Neth-Arg) dir. Pablo Lamar, prod. Sapukai Cine, Sabaté Films, Sancho Filmes, Revolver Amsterdam, Fortuna Films, Tarea Fina
Słońce (Pol) dir. Anna Zamecka, prod. Madants
The Surrogate (Mex-UK) dir. Ali Jaberansari, prod. The Lift, Here & There Productions
Testa o Croce? (It-Fr) dir. Alessio Rigo de Righi, prod. Ring Film, Shellac Sud
When the Kids Sing the Hits (Ser-Mont) dir. Mina Djukic, prod. Sense Production, Adriatic Western
Immersive
369 (Fr) cre. Ananda Safo, prod. Ten2Ten Films
Ancestors (Fin-Ger) cre. Hanna Haaslahti, prod. Fantomatico, Poike Production, High Road Stories
Anti-Muse (Bel) cre. Baloji, prod. Amok, Wrong Men
Gay Simulator (Neth) cre. Iris van der Meule, prod. Studio Biarritz
The Mask Maker and the Tree (Neth) cre. Abner Preis, prod. Institute of Time