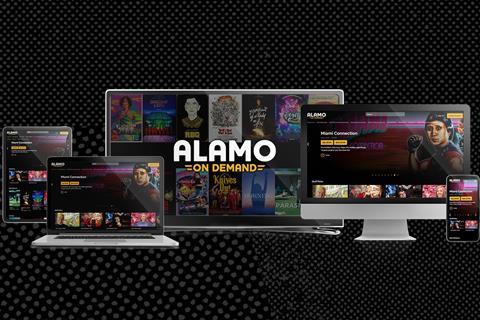 In a timely development amid the theatre shutdown, Alamo Drafthouse Cinema has launched VOD platform Alamo On Demand.
The Texas-based chain is partnering with a number of studios and distributors on an initial roster that includes Pain And Glory, Parasite, Apocalypse Now: Final Cut, A Fantastic Woman, Knives Out, Four Lions and John Wick: Chapter 3 – Parabellum.
Among the launch slate is an exclusive premiere of the documentary Kate Nash: Underestimate The Girl, which features livestream Q&A and a performance by Nash.
The company plans to reward subscribers who rent and purchase titles on the platform with a loyalty programme credit that could apply for example to a discount on the future purchase of a film seen at the theatre.
The Alamo team will curate genre classics, female-driven cinema, favourites from Alamo Drafthouse-owned Fantastic Fest, among others.
"We love people to see films in the cinema first and foremost, but the reality is not everyone can always make the time for every movie they want to see," said Alamo Drafthouse founder and executive chairman Tim League, who partnered with cinema management software specialists Vista Cinema and ScreenPlus on the launch.
"This platform allows us to give folks who missed Portrait Of A Lady On Fire in cinemas another chance to see it, which is simply an extension of our enthusiasm and support for the film. Alamo On Demand helps us to continue the conversation past the theatrical window and recommend movies we love to our community. And in these shuttered days and beyond, these rentals and purchases help support your neighborhood theatre."