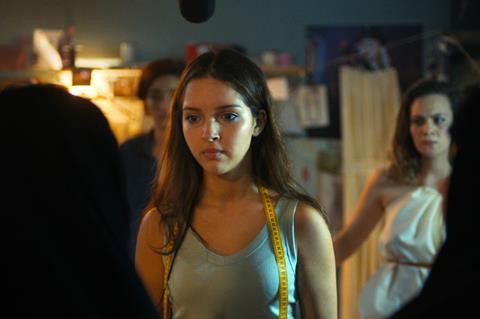 The producers of Algeria's 2020 Oscar submission, Mounia Meddour's youthful rebellion drama Papicha, are battling to screen the film in the country after local authorities pulled the plug on a planned theatrical release this week.
The feature, which premiered to warm reviews in Un Certain Regard in May, was due to make its theatrical debut in Algeria in a gala screening in the capital of Algiers on Sept 22, ahead of a wider release.
Producers Xavier Gens and Gregoire Gensollen at Paris-based The Ink Connection and co-producer Belkacem Hadjadj at Algiers-based Tayda Film learned out of the blue that permission for the screening and release had been canceled.
The film needs to screen in Algeria before Sept 30 in order to qualify for inclusion in the Academy Awards' rebranded International Feature Film category. The film's selection as Algeria's submission was announced back in July.
"We haven't been given an official reason as to why the film's premiere and release have been cancelled but we think it's due to government censorship," Gens told Screen.
Set against the backdrop of a strict female university hall of residence during Algeria's violent civil war of the 1990s, the film revolves around a free-spirited student who defies the rising tide of Islamic conservatism by organising a fashion show.
The strong feminist message and rebellious spirit of the film chime with current events in Algeria, where there have pro-democracy street protests across the country every Friday since March, dubbed the Revolution of Smiles.
The country's long-time, authoritarian president Abdelaziz Bouteflika was forced out of power in April 2019 and a military-backed caretaker government is now in place. Although this interim government has promised fair and free elections on Dec 12, the situation in Algeria remains tense.
"It's a film which talks about female liberation which is made by woman, Mounia Meddour, and inevitably this disturbs the conservative forces currently in power," said Gens. "We're not going to give up. We're doing all we can right now to ensure that the maximum number of people in Algeria see it because the film belongs to the Algerian people and it is relevant to what is going on right now."
In the meantime,the film will make its North American premiere at Colcoa on Friday (Sept 27) and is due to hit cinemas in France on October 9, where it is being released by Jour2Fete, which is also handling international sales.
The only Algerian submission to win best foreign-language film in the history of the Academy Awards is Greek-French director Costa Gavras's Algiers-shot political thriller Z in 1969.
Algerian-French director Rachid Bouchareb has been nominated three times with Dust Of Life, Days Of Glory and Outside The Law but never clinched the top prize.