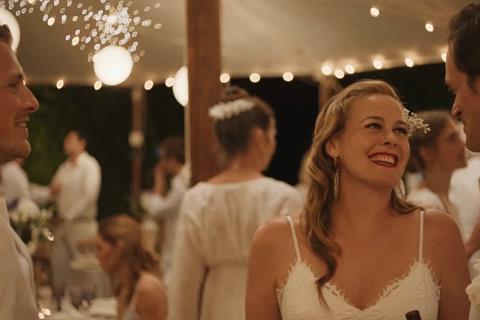 Premiere Entertainment Group has bolstered its EFM sales slate with worldwide rights to wedding comedy The Pleasure Of Your Presence starring Alicia Silverstone.
Tom Everett Scott (Parental Guidance), Jake Hoffman (The Irishman), and Mathilde Ollivier (Overlord) are among the key cast on the story about a woman (Silverstone) who tries to halt to her brother's marriage to a much younger French woman over the course of their wedding weekend in the Hamptons.
Amy Miller Gross directed from her original screenplay, and produced for Mandorla Productions alongside Andrew Carlberg and Tim Harms, with Alicia Silverstone serving as executive producer.
The cast includes Charlie Bewley, Noah Silver, Mark Blum, Julie Engelbrecht, and Ronald Guttman.
Silverstone and Everett Scott appeared together as a married couple in 2017's Diary Of A Wimpy Kid: The Long Haul for 20th Century Fox.
Premiere CEO and president Elias Axume and Carlos Rincon negotiated the deal with the producers.
The company's EFM slate includes Lost Transmissions with Simon Pegg and Juno Temple, survival thriller Centigrade starring Genesis Rodriguez and Vincent Piazza, sci-fi thriller R.I.A. featuring Luke Goss, and TIFF Midnight Madness selection Gundala.
Premiere will be showing buyers exclusive footage from their original productions Locked In starring Mena Suvari, and Blindsided starring Natasha Henstridge, both of which are currently in post-production.