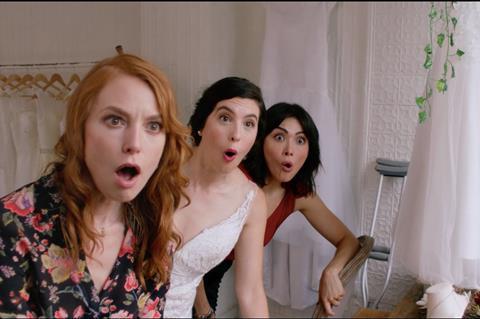 Myriad Pictures has acquired worldwide rights to the rom-com Modern Persuasion starring Alicia Witt and will launch sales and screen the film at the Cannes virtual market next week.
Alex Appel and Jonathan Lisecki directed the Jane Austen adaptation from Tangerine Entertainment and Tortyfly Pictures, based on a screenplay by Lisecki (Gayby) and Barbara Radecki (Expecting).
Witt (88 Minutes, Urban Legend, Two Weeks Notice), stars with Shane McRae (The Help, Still Alice, The Adjustment Bureau) and Bebe Neuwirth (Jumanji franchise, How to Lose A Guy In 10 Days) in the contemporary tale about a New York workaholic whose firm is hired by an old flame.
Tangerine Entertainment, founded by Amy Hobby and Anne Hubbell, works exclusively with female-identifying directors and focuses on strong roles for women. Recent credits include Paint It Black, 2018 Tribeca Film Festival winner Keep The Change, and Lucky Them starring Toni Collette.
Tortyfly Pictures is a female-driven production company founded by Appel. Modern Persuasion is Tortyfly's inaugural feature.
"We loved Alex's and Jonathan's modern-day take on the Jane Austen classic and are excited to begin selling this delightful and clever romantic comedy," said Myriad Pictures president and CEO Kirk D'Amico.
"Alicia Witt and the strong supporting cast including Bebe Neuwirth and Shane McRae humorously illuminate the challenges of getting into and maintaining relationships in the big city."