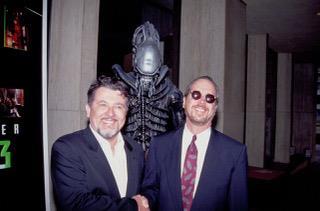 David Giler, a producer and writer on the Alien franchise, has died aged 77. He had been suffering from cancer and died at his home in Bangkok on December 19.
Walter Hill, his long-time producing partner with whom he co-wrote the story for Aliens and screenplay for Alien3, said: "If you knew David, you knew he was special.
"The magic of his personality is hard to describe: funny, angry, extremely knowledgeable, extremely well read; it was my privilege to write and produce with him, and more importantly, to have his close and deep friendship for nearly 50 years."
Giler began his screen career aged 19, writing an episode of war drama series The Gallant Men in 1962. Throughout the 60s, he would go on to write episodes for series including Burke's Law and The Man From U.N.C.L.E.
His first foray into features came in 1970 with X-rated comedy Myra Breckinridge, based on the Gore Vidal novel of the same name, which Giler co-wrote with director Michael Sarne. It also marked Giler's first move into producing, albeit uncredited.
The 1970s also saw Giler co-write 1974 conspiracy thriller The Parallax View and 1977 comedy caper Fun With Dick And Jane. He made his only film as a director in 1975 with adventure comedy The Black Bird.
Giler's long relationship with the Alien franchise began with the seminal original film, directed by Ridley Scott, in 1979. He later crafted the story for 1986 sequel Aliens with Hill and director James Cameron, who also wrote the screenplay, and was executive producer on the sci-fi thriller.
Giler returned as a producer on 1992's Alien3, directed by David Fincher, and co-wrote the screenplay with Hill and Larry Ferguson. He was also a producer on 1997's Alien Resurrection, two Alien vs Predator spin-offs and prequels Prometheus and Alien: Covenant. Giler was also attached to produce a third part of the prequel trilogy, which is as-yet-untitled or dated.
Further writing credits include 1986 comedy The Money Pit, starring Tom Hanks, and 2002 action film Undisputed, directed and co-written by Hill.
Giler also produced Hill's 1981 thriller Southern Comfort and returned to TV in the 1990s with the Tales From The Crypt and Tales From The Cryptkeeper series.
Giler is survived by his sister, Kendall Giler.