Film industry veterans Alison Thompson and Mark Gooder have unveiled their London and LA-based company and strategic alliances with London's Potboiler Films and Berlin-based X Filme.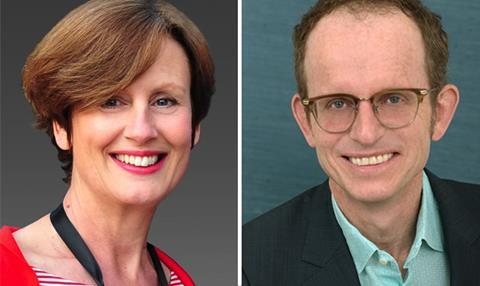 Gail Egan and Andrea Calderwood's Potboiler Films and X Filme run by Stefan Arndt and Uwe Schott will each channel up to two films a year for financing and sales into Cornerstone Films.
Thompson will hit the Croisette with the prestige drama Denial starring Hilary Swank and Tom Wilkinson.
As first reported on ScreenDaily, the film is based on Deborah E Lipstadt's book History On Trial: My Day In Court With A Holocaust Denier about a courtroom clash with the notorious historian David Irving. David Hare has adapted the screenplay.
Thompson will fold her Sunray slate into the new venture, which includes Asif Kapadia's Midnight selection Amy Winehouse documentary Amy and Vincent Perez's Alone In Berlin starring Emma Thompson, Daniel Brühl and Brendan Gleeson.
Cornerstone will reveal further titles in Cannes and aims to deliver a varied roster spanning wide release commercial fare to talent-driven titles by world-renowned filmmakers.
"I have long admired Alison as one of the leading specialists in film sales and I'm thrilled to be able to bring my complementary set of skills to this new partnership," said Gooder. "We have a shared, strong belief in the continued importance of quality theatrically driven material to drive the independent film model."
Thompson added: "Mark and I share similar tastes and ambitions and with our combined experiences, we look forward to creating a brand new voice in the film community.
"At the same time, we are thrilled to be embarking on this adventure with two of the industry's leading producers, Potboiler and X Filme, both of who have fantastic track records in producing the kind of films we aim to present to the market."
Gooder started out in Australia and set up a distribution venture for Mel Gibson and Bruce Davey's Icon, before relocating to LA in 2006 to oversee the Icon group of companies including an international sales arm, UK and Australia distribution and Icon Productions.
He joined The Weinstein Company in 2012 as president of acquisitions. His acquisition and distribution credits include 12 Years A Slave, The Passion Of The Christ, Amelie, La Vie En Rose, The Blair Witch Project, Philomena and Slumdog Millionaire.
Thompson began her sales career at The Sales Company and in 2000 headed to Pathé Pictures International. More recently she served eight years as co-president at Focus Features International.
Her career credits include Blue Jasmine, Brokeback Mountain, The Crying Game, Mr. Turner, The Motorcycle Diaries and Cloud Atlas.