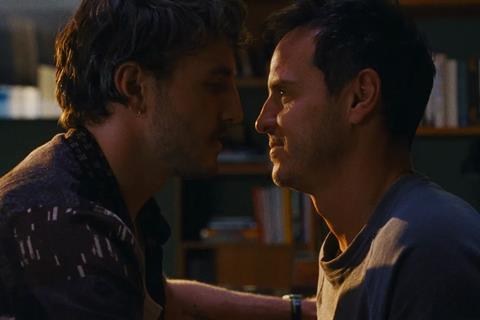 Andrew Haigh's romantic drama All Of Us Strangers led the craft winners for the 2023 British Independent Film Awards (Bifas), converting three of its craft nominations to wins.
The Searchlight Pictures film, which is backed by Film4, took prizes in best cinematography, for Jamie D. Ramsay; best editing for Jonathan Alberts; and best music supervision for Connie Farr – her second Bifa, following a win for Ali & Ava in 2021.
Scroll down for the full list of craft winners
All Of Us Strangers has a further seven nominations in five categories at the 26th Bifa ceremony on Sunday, December 3, including best British independent film, best lead performance for Andrew Scott, and best supporting performance for Paul Mescal, Jamie Bell and Claire Foy. The film stars Scott as a writer who is drawn both back to his past and towards a mysterious new relationship.
Sam H Freeman and Ng Choon Ping's revenge thriller Femme won two awards: best costume design for Buki Ebiesuwa and best make-up and hair design for Marie Deehan.
Daniel Kaluuya and Kibwe Tavares' dystopian London story The Kitchen also took two prizes: best production design for Nathan Parker and best effects for Richard Baker and the late Jonathan Gales.
Raine Allen-Miller's Rye Lane, the most-nominated film at this year's Bifas with 16, won one craft award – best original music for Kwes.
Mark Jenkin won best sound for his island mystery Enys Men; while 2019 Screen Star of Tomorrow Isabella Odoffin took the best casting prize for Molly Manning Walker's How To Have Sex.
Film4 had a good result all round, with seven of the 10 craft prizes going to Film4-backed titles.
The Bifa craft categories were introduced in 2017 to recognise behind-the-camera talent working on British independent films; nominees and winners are chosen by Bifa voters over three rounds of viewing, discussion and voting.
Bifa craft winners 2023
Best casting – Isabella Odoffin for How To Have Sex
Best cinematography – Jamie D. Ramsay for All Of Us Strangers
Best costume design – Buki Ebiesuwa for Femme
Best editing – Jonathan Alberts for All Of Us Strangers
Best effects – Jonathan Gales, Richard Baker for The Kitchen
Best music supervision – Connie Farr for All Of Us Strangers
Best make-up & hair design – Marie Deehan for Femme
Best original music – Kwes for Rye Lane
Best production design – Nathan Parker for The Kitchen
Best Sound – Mark Jenkin for Enys Men