The project is the first feature from former Studio Ghibli filmmakers Yoshiaki Nishimura and Hiromasa Yonebayashi.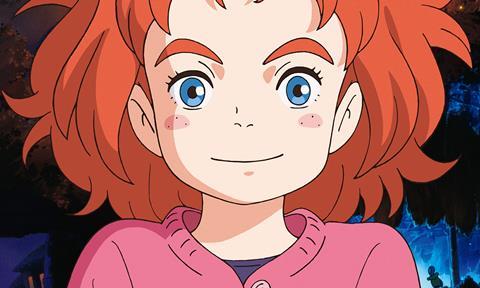 Altitude Film Sales has secured worldwide rights to Mary And The Witch's Flower, the first film from Japanese animation house Studio Ponoc.
The firm was set up by former Studio Ghibli director Hiromasa Yonebayashi (Arrietty), and producer Yoshiaki Nishimura (The Tale of The Princess Kaguya).
Altitude Film Distribution has UK rights to the project, currently in post-production, with Madman Entertainment releasing the film in Australia and New Zealand.
Mary And The Witch's Flower is based on the novel by Mary Stewart called The Little Broomstick. Yonebayashi and Riko Sakaguchi (The Tale Of The Princess Kaguya) wrote the screenplay.
The story centres on a lonely girl who is whisked off to Endor College, school of witchcraft, by a magical broomstick.
Studio Ponoc's founders have brought together former Studio Ghibli animators and artists to create new films in the tradition of the renowned animation studio.
Will Clarke, founder and CEO of Altitude Film Entertainment said: "We could not be more excited to bring Studio Ponoc's debut feature to international markets as well as release in cinemas right here in the UK.
"Mary And The Witch's Flower marks the beginning of a new, exciting age of animation and the start of an exciting new relationship between Altitude and Studio Ponoc."
Paul Wiegard, founder and joint managing director of Madman commented: "Madman has been fortunate to represent the great films that Yonebayashi-san and Nishimura-san have been involved in to date and we are thrilled to be working with our friends at Altitude and Studio Ponoc on this exciting new project."