New features from Triangle director Christopher Smith, Storage 24 director Johannes Robert and theatre director Thomas Daley.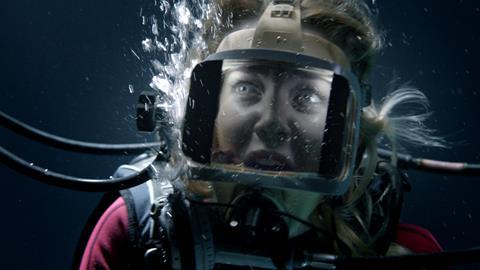 Altitude Film Sales, the UK-based firm that launched last year, has announced five new films ahead of Cannes – boosting its slate to 13 features.
The five new titles on which Altitude will handle international sales are:
Get Santa: a high-concept family comedy from Triangle director Christopher Smith, starring Jim Broadbent, produced by Liza Marshall of Scott Free London and executive produced by Ridley Scott. It tells the story of a father and son who team-up to save Christmas when they discover Santa sleeping in their garage, having crashed his sleigh.
Tiger House: a home invasion thriller from theatre director Thomas Daley with a cast that includes Skins star Kaya Scodelario, Downton Abbey's Tom Cullen and Dougray Scott. Filming is due to start in September.
47 Meters Down [pictured]: an underwater thriller, from Storage 24 director Johannes Roberts, in which four divers become trapped at the bottom of the ocean and must traverse shark-infested waters to get back to their boat. Produced by Mark Lane and James Harris (Cockneys vs Zombies) and set to shoot this summer, the cast includes Vanessa Kirby. Footage will screen at Cannes.
Beyond the Edge: a 3D feature docudrama, from writer/director Leanne Pooley, tracing the story of the 1953 conquet of Everest. Producer is Matthew Metcalfe, production designer is Grant Major (Lord of the Rings) and cinematographer is Richard Bluck (Avatar, The Hobbit).
The Hooligan Factory: a football hooligan comedy directed by Nick Nevern and co-written with Michael Lindley. It is produced by Jason Maza, who also stars alongside Tom Burke, Steven O'Donnell, Morgan Watkins, Leo Gregory, Craig Fairbrass and Tamer Hassas. It is currently in post-production.
Altitude will also be showing the first footage from Son of a Gun, an action crime thriller starring Ewan McGregor and Alicia Vikander from director Julius Avery; and Catch Me Daddy, the feature debut of music video and commercials director Daniel Wolfe about a couple on the run. Both are in post-production.
Other previously announced titles on Altitude's slate include sci-fi action film Outpost 37, from Jabbar Raisani; dark fairytale The Good People, directed by Screen Star of Tomorrow Corin Hardy; satirical Britpop feature Kill Your Friends, starring Rafe Spall and directed by Owen Harris; and Shane Meadows-directed music doc The Stone Roses: Made of Stone, set for release in the UK on June 5.
For full production details, visit: