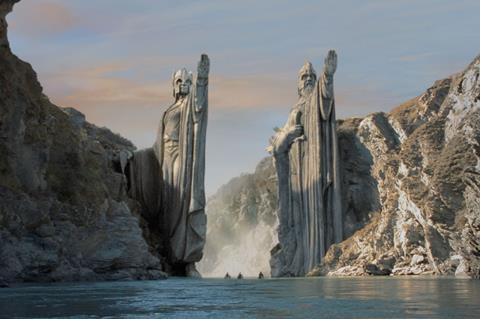 Amazon Studios has confirmed that its The Lord Of The Rings series will shoot in New Zealand, with production set to begin in Auckland "in the coming months," according to the streaming platform.
Local reports first suggested in July that Amazon was close to a deal to shoot in New Zealand, where Peter Jackson shot his The Lord Of The Rings feature trilogy at the end of the 90s. The features led to a huge investment in the local production industry and provided a long-lasting boost to New Zealand tourism.
Pre-production on the series is already underway, according to Amazon. Though the company did not comment, the series is expected to tap into New Zealand's Major Screen Production Grant incentive scheme.
J D Payne and Patrick McKay are serving as executive producers and showrunners on the series, which will explore new storylines that take place before the events of J R R Tolkien's first The Lord Of The Rings novel, The Fellowship Of The Ring.
J A Bayona is set to direct the first two episodes, but Amazon has not yet revealed any casting for the series.
In a statement, Payne and McKay commented: "As we searched for the location in which we could bring to life the primordial beauty of the Second Age of Middle-earth, we knew we needed to find somewhere majestic, with pristine coasts, forests, and mountains, that also is a home to world-class sets, studios, and highly skilled and experienced craftspeople and other staff.
"And we're happy that we are now able to officially confirm New Zealand as our home for our series based on stories from J R R Tolkien's The Lord of the Rings. We are grateful to the people and the government of New Zealand and especially Auckland for supporting us during this pre-production phase. The abundant measure of Kiwi hospitality with which they have welcomed us has already made us feel right at home, and we are looking forward to deepening our partnership in the years to come."