The Dan Brown adaptation starring Tom Hanks and Felicity Jones has surged past the milestone after ten days.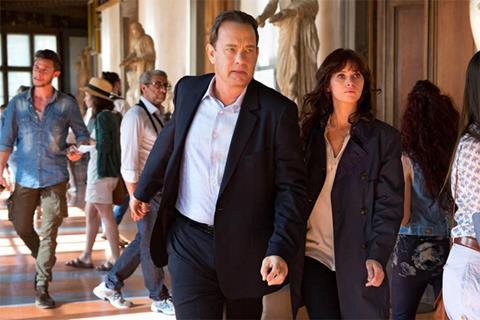 Ron Howard directed and Brian Grazer produced Inferno, which Sony opens in North America this week.
The thriller opened recently at number one in 64 markets including Germany, Russia, Brazil, Mexico and Italy, where the film received its world premiere in Florence earlier this month.
The tentpole reportedly cost $75m to make and is yet to debut in is still to open in China, Japan and France.
Toronto-based 108 Media has acquired exclusive worldwide distribution and packaging rights to horror anthology series Disturbia created by Adam Phillips. Tony Tilse will direct. Bedlam Productions are co-producing and developing.
Film Independent has announced the producers selected for its four-week 16th annual Producing Lab supported by Artist Development Lead Funder Time Warner Foundation with additional funding provided by the Alfred P. Sloan Foundation and the National Endowment for the Arts. Click here for further details.
The Los Cabos International Film Festival has unveiled its roster of jurors, which includes Mexican filmmakers Gibrán Portelo and Carlos Carerra, Colombian director Ciro Guerra, Argentinian director Pablo Trapero, Toronto International Film Festival artistic director Cameron Bailey, and Cannes Critics' Week artistic director Charles Tesson. The festival runs from November 9-13. Click here for full details.