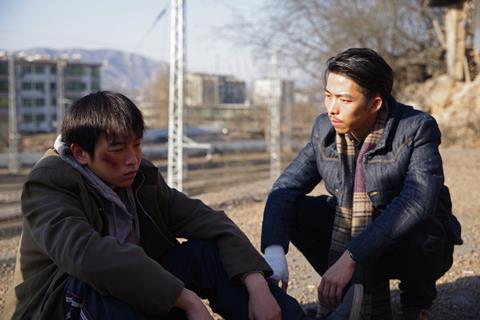 The late Hu Bo's directorial debut An Elephant Sitting Still was named best film at the 55th Golden Horse Awards in Taiwan, while Zhang Yimou's Shadow walked away with the most number of awards, including best director.
Two further mainland Chinese films – Dying To Survive and Long Day's Journey Into Night – each nabbed three wins. Mainland films most noticeably dominated the stage taking most of the awards at the ceremony held on Saturday (Nov 18) at Sun Yat Sen Memorial Hall in Taipei.
An Elephant Sitting Still, which clocks up a long running time of over 230 mins, also took best adapted screenplay for Hu who directed his first (and last) film based on his own novel, about four people in search of a mythical elephant. Hu took his own life at the age of 29 before the film's premiere at Berlin this year. His mother accepted the best film award for him.
Losing out on best film, Shadow earned four prizes, including Zhang's first Golden Horse best director win and three technical awards. The monochromatic historical epic had led the race with 12 nominations.
Wen Muye's directorial debut Dying To Survive won best new director, best original screenplay and best actor for top comedian Xu Zheng. Xu plays a merchant who imports affordable but illicit drugs from India for leukemia patients in China. The social comedy drama was a huge summer blockbuster in mainland China.
Kaili Blues director Bi Gan's new film Long Day's Journey Into Night earned three technical awards, including best cinematography.
As the host, Taiwan found glory through Dear Ex, which took three awards, including best actress for Hsieh Ying Xuan, a first time Golden Horse nominee who is a theatre veteran known as "the goddess of theatre" in Taiwan. She plays a widow who finds out the painful truth about her husband's sexuality only after his death and is forced to confront his male lover when he becomes her husband's life insurance beneficiary, instead of their son.
Other Taiwanese films which received recognition include Cities Of Last Things for best supporting actress (Ding Ning); Long Time No Sea for best new performer (Si Pangoyod); Sung Hsin Yin's On Happiness Road for best animated feature; and Fu Yue's Our Youth In Taiwan for best documentary.
Hong Kong used to shine at the Golden Horse Awards before China became a major force over the last decade. This year, the only major prize for Hong Kong was best supporting actor, which went to Ben Yuen for his role as an elderly transgender woman in Tracey.
Oscar-winning director Ang Lee serves as the new chairman of the awards' executive committee, with Chinese actress Gong Li as the jury head. The duo was supposed to present the best film award together, but according to the local media, Gong backed out at the last minute allegedly because of documentary winner Fu Yue's acceptance speech which touched on Taiwan's pro-independence status.
The local media also reported that many mainland Chinese filmmakers didn't turn up at the after-party as a gesture of boycott.
55th GOLDEN HORSE AWARDS FULL LIST OF WINNERS:
Best film: An Elephant Sitting Still
Best documentary: Our Youth In Taiwan, dir: Fu Yue
Best animated feature: On Happiness Road, dir: Sung Hsin Yin
Best live action short film: A Final Reunion, dir: Da Peng
Best animated short film: Where Am I Going?, dirs: Huang Yun Sian, Tsai Yi Chi
Best director: Shadow, dir: Zhang Yimou
Best leading actor: Xu Zheng, Dying To Survive
Best leading actress: Hsieh Ying Xuan, Dear Ex
Best supporting actor: Ben Yuen, Tracey
Best supporting actress: Ding Ning, Cities Of Last Things
Best new director: Wen Muye, Dying To Survive
Best new performer: Si Pangoyod, Long Time No Sea
Best original screenplay: Han Jianu, Zhong Wei, Wen Muye, Dying To Survive
Best adapted screenplay: Hu Bo, An Elephant Sitting Still
Best cinematography: Yao Hung I, Dong Jinsong, David Chizallet, Long Day's Journey Into Night
Best visual effects: Samson Wong, Shadow
Best art direction: Ma Kwong Wing, Shadow
Best makeup & costume design: Chen Minzheng, Shadow
Best action choreography: He Jun, Tanigaki Kenji, Yan Hua, Hidden Man
Best original film score: Lim Giong, Point Hsu, Long Day's Journey Into Night
Best original film song: Bali Song, lyricist/composer/performer: Lee Ying Hung, Dear Ex
Best film editing: Lei Cheng Ching, Dear Ex
Best sound effects: Lu Danfeng, Si Zhonglin, Long Day's Journey Into Night
Outstanding Taiwanese filmmaker of the year: Shaburo Liu
Audience choice award: An Elephant Sitting Still
FIPRESCI prize: The Looming Storm
Special contribution award: Liao Ching Sung