Handsome Devil to kick-off the event, Mad To Be Normal picked as Closing Film Gala.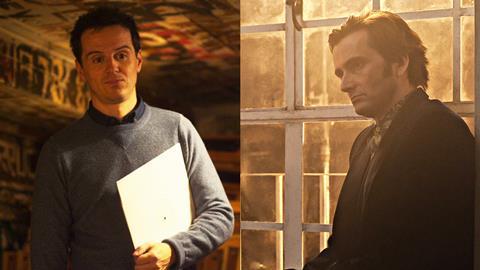 The opening and closing night films of the Glasgow Film Festival (15-26 February) have been announced.
The European premiere of Handsome Devil, a coming-of-age story staring Sherlock and Spectre star Andrew Scott, will be the Opening Gala on 15 February. Scott stars alongside Fionn O'Shea and Nicholas Galitzine and John Butler (The Stag) directs. Radiant Films International is handling international sales for this title.
The world premiere of Mad To Be Normal (pictured below) will close the festival on festival on 26 February. David Tennant plays renowned Scottish psychiatrist R.D. Laing, with the Doctor Who star confirmed to attend the event.
Elisabeth Moss (Mad Men), Michael Gambon (the Harry Potter series) and Gabriel Byrne (The Usual Suspects) co-star, with Robert Mullan (We Will Sing) directing.
The festival will also host the Scottish premiere of The Seasons in Quincy: Four Portraits Of John Berger - a celebration of the renowned art critic and artist, who passed away aged 90 on 2 January.
The rest of the Glasgow Film Festival programme will be announced on 18 January.
In Handsome Devil, Scott (below) plays an inspirational English teacher who befriends Ned (O'Shea), a gawky youngster who is sent to a macho Irish boarding school. Ned is bullied and lonely until he strikes up an unlikely friendship with new roommate Conor (Nicholas Galitzine), a star player for the school rugby team.
Mad To Be Normal is set during the 1960s, when J.D. Laing set up a medication-free community for schizophrenia sufferers at Kingsley Hall in East London. Moss plays the lover of the psychiatrist, who was considered a dangerous radical by the medical establishment.
The Seasons In Quincy: Four Portraits Of John Berger is a collaboration between Tilda Swinton, Colin MacCabe, Christopher Roth and composer Simon Fisher Turner, and is comprised of four essay films examining different aspects of Berger's life.