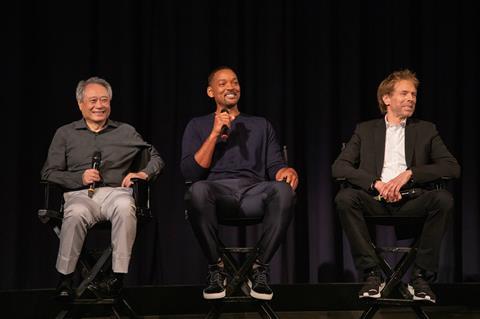 Ang Lee, whose upcoming Gemini Man is tipped to premiere in Venice, said he was "overwhelmed" and "confused" by the technology demands of 2016 release Billy Lynn's Long Halftime Walk. He said he felt much more comfortable with the demands of ultra-high frame rate and picture resolution a second time round on his new sci-fi.

Lee joined Will Smith and Gemini Man producer Jerry Bruckheimer on stage at the Paramount Theatre in Los Angeles on Tuesday (23) to reveal a first-look at roughly 20 minutes of footage from the film. Smith plays Henry Brogen, a disillusioned operative pursued by a cloned, younger version of himself. Paramount is releasing the film in the US and UK on October 11 (see bottom for more detailed international distirbution timeline.)
As was the case on Billy Lynn, the extraordinary clarity of the 120fps rate (frames per second) format took some getting used to, yet the footage drew applause from press and executives. Lee and the film's effects team stressed the process of creating Junior, an entirely digital 25-year-old super warrior sent to kill Brogen and manufactured by antagonist Clay Verris (Clive Owen), was not "de-aging" but a new process.
Creating a young Will Smith: 'We're not de-aging'
"We're not de-aging," said the Oscar-winning director of Life Of Pi. "We think we're creating a new character, a youthful Will Smith." He stressed the film combines action with his specialty, drama, and added: "If you examine your life [and] can live it twice, what would you tell your younger self?"
Lee cued up three scenes from Gemini Man. The first showed Brogen resting before he spots a mysterious figure (Junior) who then chases him. Brogen cannot believe his eyes when he sees the face of his pursuer.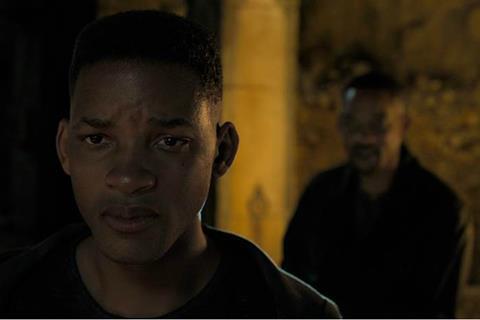 In the second scene, Brogen rescues his friend (Mary Elizabeth Winstead) from Junior in an underground catacomb and tells the youngster the truth about Verris, before the look-alikes get into a huge fight. In the final scene Verris attempts to persuade a confused Junior that he loves the youngster and has his best interests at heart. Benedict Wong also stars.
Lee said producer David Ellison of Paramount co-finance partner Skydance Media pitched him the idea. The film shot in Cartagena, Colombia, and on sound stages in Budapest, Hungary. The director is still locking effects shots, and only just signed off on the first shot of Junior that took one year to pull off.
Weta Digital's FX supervisor Guy Williams later explained the process of creating Junior involved sourcing pictures of Smith from his career – images on the web, and pictures from Bad Boys and Independence Day – before taking hundreds of images of present-day Smith's body to capture how the light falls on his skin.
After principal photography ended, the filmmakers gathered more information about the shape and dynamism of the younger character before they built it digitally, by employing actor Victor Hugo to act opposite Smith in the scenes that Brogen and Junior share together. Actor Chase Anthony was also brought in for skin references, so that the team at Weta Digital could gather as much information as possible on how to best craft the digital Junior.
Smith would speak Junior's lines opposite another actor doubling as Brogen, while wearing motion capture equipment and a close-up camera on his face, which would be used to capture images that could make Junior's expressions similar to those of present-day Smith.
'Junior is twice as expensive as Will Smith'
"Junior is twice as expensive as Will Smith," Lee joked during the presentation. Smith opined on the research he did for the role, saying: "I got to see all of the tragedies that I committed to in entertainment [in his earlier career] to see my youth. The twenties sucked ass so I'm not going near that – maybe my thirties… [Now] I'm more relaxed and comfortable in my own skin.
Noting how his own acting skills have grown with age, Smith added: "When I was playing younger Will Smith [Ang] would say, 'I need you to act less good', and he would show me footage and tell me to act like that."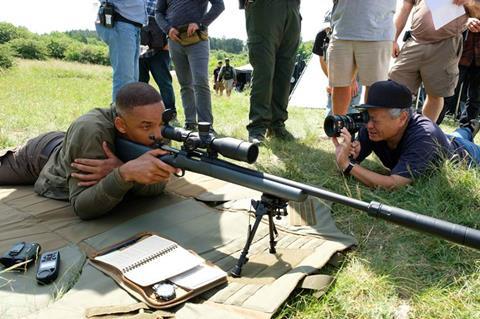 The two men share a mutual admiration, and Smith weighed in on Bruckheimer, with whom he has now made five films including Bad Boys, Bad Boys II, Enemy Of The State, and the upcoming Bad Boys For Life. The producer, he said, was "much more relaxed and settled [now]. When Jerry's walking on set you know it's going to be OK."
"A lot of you remember what Will was like in The Fresh Prince Of Bel-Air," said Bruckheimer, who paid tribute to the effects work on Gemini Man. "At 120 frames per second you see everything. You have to give credit to David Ellison at Skydance for taking this huge leap which has never been done before. They laid down a lot of money praying that Ang was right [for the director's role] and he did it. How do we get people back into theatres? This is a whole new experience and the theatrical experience is going to be different and [Ang] is at the forefront of this."
'With this I am starting to feel I know what I am doing now'
Lee's 2016 feature Billy Lynn's Long Halftime Walk also deployed 120fps, 4K and 3D and it flopped when it opened in 2016, earning less than $2m through Sony's TriStar and less than $30m internationally. The filmmaker felt he got to grips with the same technological requirements on Gemini Man as he tried to use the latest in filmmaking wizardry in service to the action and a dramatic story with heart.
"I was overwhelmed [on Billy Lynn]. All of a sudden I had to swap to a new religion… some of it worked and I am very proud of it and some it if didn't. It confused me.
"With this I am starting to feel I know what I am doing now. For this I jumped in a totally opposite direction: it's a fictional story, it's a genre movie, and we tried to make if look beautiful. I am trying to create a new aesthetic for digital cinema and my biggest hope is audiences buy into the story and other filmmakers join in… this is a great way to ensure audiences go to the theatre."
Gemini Man is set to debut in France on October 2; Germany and South Korea on October 3; Indonesia on October 9; Australia, Russia, Brazil, Italy, Argentina, Hong Kong and Malaysia on October 10; the UK, Mexico and Spain on October 11, and Japan on October 25. Paramount does not hold rights in China where it has not yet been dated.