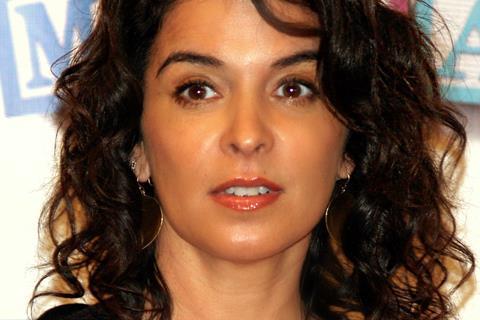 Sopranos actress Annabella Sciorra appeared in a Manhattan court at Harvey Weinstein's criminal trial on Thursday (January 23) to testify that the disgraced former Hollywood executive raped her in winter 1993 / 1994.
According to reports Sciorra's voice cracked on occasion as she recounted how Weinstein pushed his way into her New York apartment after dropping her off from a dinner.
Sciorra said Weinstein led her into her bedroom and raped her despite her initial protests. She recalled punching and kicking before he locked her hands above her head and she could no longer fight. After the alleged rape, she said he performed oral sex and then left.
Sciorra is one of four "prior bad acts" witnesses whose testimony does not relate to the current charges, but has been introduced by prosecutors to show a pattern of behaviour by Weinstein.
The actress, who had already made a film with Weinstein for Miramax, claimed that during the "disgusting" incident her body shut down and began to shake uncontrollably. After Weinstein left, she said she could not remember whether she fainted or fell asleep.
She did not report the incident to the police as she was unsure what constituted rape, and said that prior to the incident she had believed Weinstein was "an OK guy". After the incident she said she became reclusive, and started to drink and cut herself.
Lead defence attorney Donna Rotunno cross–examined Sciorra and challenged her inability to recall when the alleged incident took place, and the exact address of where in Gramercy Park she was staying at the time.
The actress replied to a statement that she had been drinking a lot at the dinner by saying she had one glass of wine. Rotunno also suggested her drinking had been noted by the film production she was working on. Sciorra conceded that she had been sued by her landlord for $360,000 in major damage to the apartment.
Sciorra said the day after the alleged incident she tried to resume her life as if nothing had happened. She said when she later confronted Weinstein and said she had been naked when she fainted he told her that was what all nice Catholic girls would say. The actress said Weinstein then told her the matter would remain between them in a manner that scared her.
The defence claimed Sciorra maintained a professional relationship with Weinstein and collaborated on Miramax's 1997 drama Cop Land. Sciorra said she did not know the company was involved when she took a role in the film. Assistant district attorney Joan Illuzzi showed jurors a copy of the script that Sciorra received that did not have the company name on it.
When Sciorra travelled to Cannes Film Festival to promote the film, she discovered she was placed in a hotel room next to Weinstein. She said the mogul knocked on her door one morning dressed in his underwear holding a bottle of baby oil and a video camera. At an industry event on the Croisette he placed his hand on her back and walked away when she turned round.
Weinstein is charged with five counts of sexual offences including rape and sexual assault against Jessica Mann and Miriam Haleyi in 2006 and 2013. He faces up to life in prison if found guilty. He has denied any non-consensual sex.