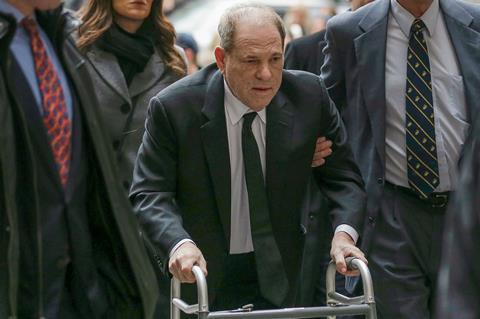 In dramatic opening statements on the first day proper of Harvey Weinstein's criminal trial in New York, prosecutors branded the former Hollywood mogul a "sexual predator and rapist" while defence attorneys said loving emails from accusers would prove those allegations unfounded.
District attorney Meghan Hast identified the second accuser in the case as actress Jessica Mann, who first met Weinstein in 2013. The other woman is former production assistant Miriam "Mimi" Haleyi. Weinstein is charged with five counts of predatory sexual assault, rape, and criminal sexual acts and faces up to life in prison if found guilty. He has denied any non-consensual sex.
Hast told the jury of seven men and five women in New York State Supreme Court in Manhattan that the prosecution will show and Mann will testify that the former Hollywood mogul, now 67, raped her violently on numerous occasions and trapped her in an abusive relationship for many years.
The prosecutor told the jury that they would have to acknowledge that while "friendly emails" and ongoing relationships of sorts between accusers and Weinstein – a key plank in the defence strategy at this point – might not have been the best course of action by accusers, the jurors' focus must be on whether what happened on occasion amounted to sexual assualt.
Judge James Burke has allowed "prior bad acts" testimony from other women that the prosecution hopes will show a pattern of behaviour. Witnesses will include Sopranos actress Annabella Sciorra, and actresses Dawn Dunning, Tara Ley Wolf, and Lauren Young.
Damon Cheronis on Weinstein's defence team argued they would show emails from accusers that did indeed show a "loving relationship" and would not enable the prosecution to prove his client's guilt beyond reasonable doubt.