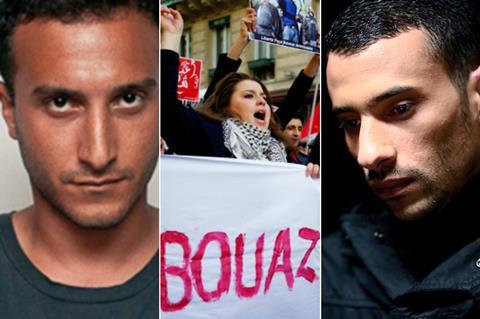 German production outfit DETAiLFILM and Paris-based Cinenovo are teaming with US companies Beachside Films and Anonymous Content on Before The Spring, a drama based on the life of Mohamed Bouazizi.
Bouazizi was a Tunisian street vendor who set himself on fire in protest of his treatment by officials; the act of defiance was one of the catalysts for the Tunisian Revolution and the wider Arab Spring.
Egyptian-British filmmaker Lotfy Nathan is making his narrative feature debut on the project. Nathan's documentary 12 O'Clock Boys, about urban dirt-bike riders in Baltimore, played at more than 50 film festivals including SXSW and Sundance and won its director the HBO Emerging Artist Award. A fictional remake of the project written by Barry Jenkins for Sony and Overbrook is now in post-production.
French-Moroccan actor Kamel Labroudi (Jack Ryan, A Prophet) is in talks to star in the leading role of Before The Spring, with production slated to begin October 2019 in Tunisia, in the original village where Bouazizi lived. Further casting is underway for the lead roles, while non-professional actors will also be used throughout the film.
DETAiLFILM's Fabian Gasmia is producing alongside Cinenovo's Julie Viez. Beachside's Alex Turtletaub, Michael B. Clark and Myriam Schroeter are also producers – the US company is providing a portion of the finance – with Nicole Romano and Tariq Merhab for Anonymous, which helped package the project. It is a Germany-France co-production, though this may be opened up further.
London-based finance and sales outfit Film Constellation has boarded world rights on the project. Executive producers are Film Constellation's Fabien Westerhoff with Khadija Alami, Habib Attia, and Khaled Barsaoui.
"The tragedy of Bouazizi's story is demonstrated in the simple beauty of humankind and the knowledge that his final act changed the lives of millions of people. As someone with a Middle Eastern background, I was so inspired by the opportunity to share the universality of his story and continue to expand the, sometimes inaccurate, perception of the Arab region," said director Lotfy Nathan.
DETAiLFILM's Fabian Gasmia is a co-producer on Leos Carax's upcoming musical Annette, which re-launched at this year's Cannes and recently added Marion Cotillard to its cast. This year, he produced Sundance title The Sunlit Night and Berlinale premiere Cleo: If I Could Turn Back Time, and his previous credits include Olivier Assayas's Personal Shopper, Mia Hansen-Løve's Things To Come, and Nuri Bilge Ceylan's the Wild Pear Tree.
Cinenovo's Julie Viez credits include Olivier Assayas's Non-Fiction and Deniz Gamze Ergüven's Kings. Through Cinenovo, she has Alex Carvalho's debut feature La Salamandre shooting this summer, alongside new features from Yolande Zauberman, Marie Monge, and Morgan Simon.
Beachside recently produced the Sundance hit The Miseducation Of Cameron Post. Management and production outfit Anonymous Content represents director Lotfy Nathan and recently produced Harmony Korine's The Beach Bum and Steven Soderbergh's upcoming The Laundromat.
Film Constellation has two projects playing in Cannes this year: Annie Silverstein's Bull in Un Certain Regard and Werner Herzog's Japanese-language drama Family Romance, which is a Special Screening.