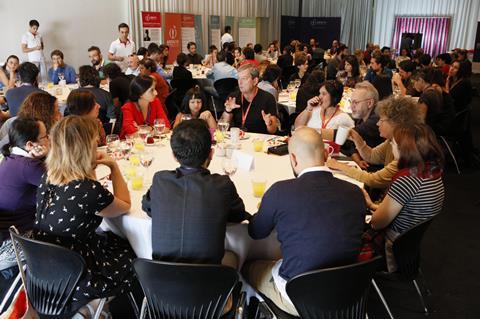 The Antalya Film Forum, the industry wing of the Antalya Film Festival, has revealed a roster of 51 projects that will take part in its fourth edition.
The four-day programme (Oct 22-26) will see projects participate in a variety of initiatives - Fiction Pitching, Documentary Pitching, Work in Progress and new platforms for this year's Forum Projects Looking for Producers: Script Development and Project Design, Sümer Tilmaç Antalya Film Support Fund and Short Film Work in Progress.
In addition, 30 finished short films will be introduced at this year's event in the new Shorts@Antalya Film Forum section.
Numerous rising talents from the Turkish film industry have been chosen for this year's edition, including: Tolga Karaçelik, director of Ivy; Kıvanç Sezer, director of My Father's Wings; Soner Caner, co-director of Rauf; Erol Mintaş, director of Song Of My Mother; Gülten Taranç, director of Wish To Wash With Rain and winner of the Audience Award at last year's Antalya Film Forum; Ümit Köreken, director of Blue Bicycle and winner of three awards at last year's Antalya Film Festival; as well as İsmail Doruk, scriptwriter of Adam And The Devil.
Awards will be handed out at a festival ceremony on October 26. The Pitching Platform and Documentary Pitching Platform winners will each receive 30,000 TL ($8,415) with two winners per section selected by the international jury. The Work in Progress platform solo winner will be awarded 100,000 TL ($28,051). The Projects Looking for Producers Platform will award 50,000 ($14,025) TL to each of its two winners.
The Sümer Tilmaç Antalya Film Support Fund will award 100,000 TL ($28,051) to one project and the Short Film Works in Progress Platform will award 5,000 TL ($1,402) to its one winner.
The 2017 Antalya Film Forum projects are listed below:
FICTION PITCHING PLATFORM
- Kargalar / Crows (Director: Erol Mintaş, Producer: Erol Mintaş)
- Af / Forgıveness (Director: Cem Özay, Producer: Cem Özay)
- Gönül / Affectıon Of The Heart (Director: Soner Caner, Producer: Bilal Bağcı)
- Mülksüzler / No Land (Director: Halit Eke, Producer: Ziya Cemre Kutluay)
- 12'ye 5 Kala / Fıve To Twelve (Director: Gülten Taranç, Producer: Gülten Taranç)
- Kovan / The Hıve (Director: Eylem Kaftan, Producer: Canol Balkaya)
- Bir Nefes Daha / When I'm Done Dyıng (Director: Nisan Dağ, Producer: Müge Özen)
- Cennette Ekmek Var Mı? / Is There Bread In Heaven? (Director: Burçak Üzen, Producer: Mehmet Karaca)
- Küçük Şeyler / Lıttle Thıngs (Director: Kıvanç Sezer, Producer: Soner Alper)
DOCUMENTARY PITCHING PLATFORM
- Arayış / The Quest (Director: Alp Kamber, Producer: Kamil Koç)
- Vargit Zamanı / Tıme To Leave (Director: Orhan Tekeoğlu, Producer: Nurdan Tekeoğlu)
- Beats-N-Pıeces / Beats-N-Pıeces (Director: Ekin Çalışır, Producer: Ekin Çalışır)
- Ada / The Island (Director: Sevinç Baloğlu, Producer: Su Baloğlu)
- Mimaroğlu / Mımaroglu (Director: Serdar Kökçeoğlu, Producer: Esin Uslu)
- 12 Yıl Sonra / 12 Years Later (Director: Tayfur Aydın, Producer: Tayfur Aydın)
WORK IN PROGRESS PLATFORM
- Koç Doğdu, Balık Öldü / Born An Arıes, Dıed A Pısces (Director: Burak Çevik, Producer: Arda Çiltepe)
- Kardeşler / Brothers (Director: Ömür Atay, Producer: Funda Ödemiş)
- Kelebekler / Butterflıes (Director: Tolga Karaçelik, Producer: Diloy Gülün)
- Siyah Atların Ölümü / Death Of The Black Horses (Director: Ferit Karahan, Producer: Ferit Karahan)
- Borç / Debt (Director: Vuslat Saraçoğlu, Producer: Vuslat Saraçoğlu)
- Ben De Buradayım / I'm Also Here (Director: Kıvılcım Akay, Producer: Aslıhan Altuğ)
- Muhammed Ali / Muhammed Alı (Director: Ümit Köreken, Producer: Nursen Çetin Köreken)
- Son Çıkış / Sıren's Call (Director: Ramin Matin, Producer: Emine Yıldırım)
- Güven / Trust (Director: Sefa Öztürk Çolak, Producer: Serkan Acar, Producer: Dilek Aydın)
- Kaos / Chaos (Director: Yusuf Aslanyürek, Producer: Semir Aslanyürek)
PROJECTS LOOKING FOR PRODUCERS
- 60 Gün / 60 Days (Writer: İsmail Doruk)
- Zamanımızın Bir Kahramanı / A Hero Of Our Tıme (Writer: Miraç Atabey)
- Kör Nokta / Blınd Spot (Writer: Burkay Doğan)
- Kabil'in Çocukları / Chıldren Of Caın (Writer: Gülistan Acet)
- Lılıth / Lılıth (Writer: Filiz Pekşen)
- İstasyonlar / Statıons (Writer: Nisa Yıldırım)
- Madame X / The Lıfe Of Madame X (Writer: Tuğçe Aydın)
- Yahya'nın Katırları / The Mules Of Yahya (Writer: Ro Çil)
- Vefa / Vefa (Writer: Zeliha Doğan)
- Beyaz Ekmek / Whıte Bread (Writer: Murat Eroğlu)
SHORT FILM WORK IN PROGRESS
- Alex / Alex (Director/Producer: Selman Nacar)
- Ayakkabı / The Shoes (Director: Nehir Tuna)
- Her Şey Yolunda / Everythıng Is Fıne (Director: Metehan Şereflioğlu, Producer: Gönül Arslan)
- Hıt Me Baby / Hıt Me Baby (Director: Semih Gülen, Producer: Ozan Yoleri)
- İki Elin Arasında / The Space Between Hands (Director: Osman Yazıcı)
- Kaset / The Tape (Director: Serkan Fakılı, Producer: Murat Çelik)
- Öğle Teneffüsü / The Lunch Break (Director: Ozan Yoleri, Producer: Alara Hamamcıoğlu)
- Sana İnanmıyorum Ama Yerçekimi Var / I Don't Belıeve In You But There Is Gravıty (Director: Umut Subaşı, Producer: Cemre Erül)
- Sonsuz / Ad Infınıtum (Director: Murat Çetinkaya. Producer: Dilek Aydın)
- Yabancı / The Stranger (Director: Damla Kırkalı, Producer: Aslı Erdem)
SÜMER TİLMAÇ ANTALYA FILM SUPPORT FUND
- Babamin Kemikleri / My Father's Bones (Writer: İsmail Doruk, Director: Özkan Çelik, Producer: Özkan Çelik)
- Portakal / Orange (Writer: Soner Caner, Director: Barış Kaya, Producer: Bilal Bağcı)
- Av / The Hunt (Writer: Emre Akay, Deniz Cuylan, Director: Emre Akay, Producer: Tolga Topçu, Diloy Gülün, Emre Akay)
- Yaşamak / To Live (Writer: Korhan Günay, Director: Korhan Günay, Canan Çelik, Producer: Bulut Reyhanoğlu)
- Julia'ya Aşik Olmak / In Love With Julia (Writer: Alp Kamber, Director: Alp Kamber, Producer: Kamil Koç)
- Kaplumbağa Terbiyecisi / The Tortoise Trainer (Writer: Orhan İnce, Director: Orhan İnce, Producer: Kamil Koç)