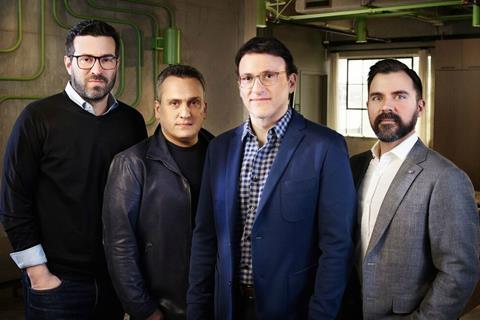 AGBO, the Los Angeles-based artists collective founded by Avengers: Infinity War directors Anthony and Joe Russo, has optioned film rights to the upcoming thriller novel The Whisper Man.
Alex North's novel is scheduled to be published in summer 2019 and centres on a grieving father who relocates with his young son to the quiet town of Featherbank, which 15 years earlier was terrorised by a serial killer known as The Whisper Man.
After the maniac was caught rumours circulated that he worked with an accomplice. Things start to heat up when the boy hears whispers outside his bedroom window.
AGBO president of production Mike Larocca (pictured far left next to Joe and Anthony Russo, and Todd Makurath) and vice-president Malcolm Gray will serve as executive producers. Leah Middleton of Marjacq Scripts brokered the deal with Gray on behalf of North.
Penguin Random House imprint Michael Joseph has closed a number of international publishing deals on the novel. Rights have gone in the UK (Michael Joseph), US (Celadon Books), Germany (Blanvalet), Finland (Otava), and Holland (Ambo Anthos).
Further publishing deals on the novel closed in Greece (Harlenic), Spain (HarperCollins Iberica), Portugal (Topseller), Czech and Slovakia (Albatros), Italy (Mondadori), Brazil (Record), and Hungary (Gabo).
"Ever since I finished The Whisper Man late at night, my heart pounding, I knew it would make a fantastic movie," Joel Richardson of Michael Joseph said. "We're all excited to see Alex's tremendous novel translated onto the big screen."
In Sundance this year, AGBO partnered with Neon on a reported $10m deal for worldwide rights to Midnight selection Assassination Nation. The company's development roster includes The Electric Slate, based on a sci-fi novel; interactive project Tension Experience, which is being produced with Saw II's Darren Lynn Bousman; Exit West, to be directed by Morten Tyldum; and Everything, Everywhere, All At Once, to be written and directed by Swiss Army Man directors the Daniels.