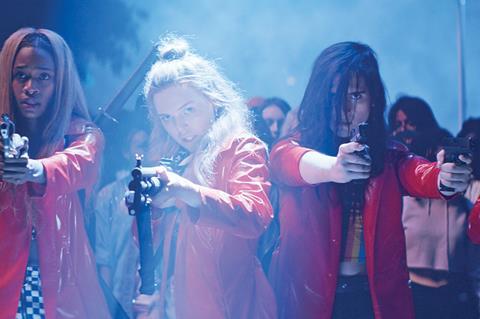 In the biggest on-site deal of Sundance so far NEON and AGBO, a new venture by Captain America: The Winter Soldier directors Joe and Anthony Russo, have acquired worldwide rights to Midnight selection Assassination Nation in a deal reportedly worth $10m.
Negotiations on the film from Bron Studios, Foxtail Entertainment and Phantom Four intensified on Monday after a well received P+I screening following the world premiere on Sunday. It is understood the deal closed early on Tuesday morning (January 23).
NEON and AGBO have made a 1,200 screen commitment on the theatrical release. Sam Levinson, who won the Waldo Salt Screenwriting Award at Sundance in 2011 for his debut Another Happy Day, wrote and directed Assassination Nation.
The film centres on a group of high school students who get caught up in a vengeful rampage after a provocateur posts details of the private lives of small town inhabitants on social media. Odessa Young, Suki Waterhouse, Hari Nef, Bill Skarsgard, Bella Thorne and Anika Noni Rose star.
David S. Goyer, Kevin Turen, Anita Gou, Matthew J. Malek, Manu Gargi, and Aaron L. Gilbert produced the Midnight entry, and executive producers are Jason Cloth, Steven Thibault, Andy Pollack, Mike Novogratz, David Gendron, Ali Jazayeri, J.E. Moore, and Will Greenfield.
NEON and AGBO negotiated alongside NEON majority owner 30WEST, with Endeavor Content on behalf of the filmmakers.