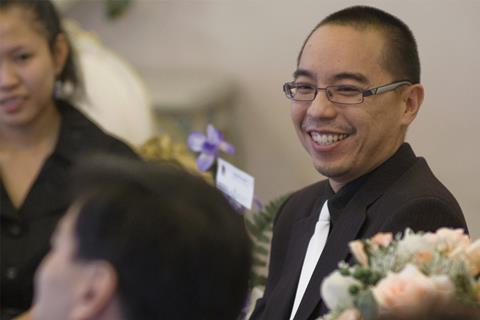 Palme d'Or winner Apichatpong "Joe" Weerasethakul was at the International Film Festival Rotterdam this year with his SLEEPCINEMAHOTEL, an operational hotel/screening space on the third floor of the city's World Trade Centre.
During the festival, Weerasethakul gave an update on his next feature, Memoria.
The Thai director recently finished the script for the project, which will shoot in Colombia, most likely in 2019. The film, which will be produced by former IFFR director Simon Field, promises to be typically playful and oblique.
"During the 70s and 80s, it was very violent (in Colombia), much more than now… when you were driving, there could be a bomb and sometimes the traffic stops and you don't know (why)," the director explained his project. "People imagine things and have a fear. The movie is about this, waiting for something you don't know."
"Colombia is an active landscape. There is a volcano, there are landslides, earthquakes, coal mining, tunnel instruction," Weerasethakul explained the part that the Colombian nature and settings will play in the story. He was partly inspired by Thai jungle stories he read as a kid. These, in turn, were influenced by US and European stories from the colonial era in which the jungle is romanticised.
As part of his research, Weerasethakul travelled around Bogota, Cali, Medellin and Choco. He visited prisons and mental hospitals and met with psychologists. "It's a fascinating country. It's my first movie outside Thailand. I hope that I make a good choice."
In spite of winning the biggest award at Cannes festival has to offer, Weerasethakul acknowledges that his movies still struggle to find an audience in Thailand. "It (the Palme D'Or) doesn't matter. Cinema and art in Thailand is not considered valuable. The Government doesn't give much support and doesn't care much about it. Let's say the Ministry of Culture in Thailand is the post nobody wants. When you scramble for seats, it is always the last spot."
'Sleep cinema'
In Rotterdam, Weerasethakul 'sleep cinema' experience, where beds costs 75 Euros a night, was fully booked for its entire 5-day duration.
Not even Weerasethakul could secure a space in the big hangar-like room where guests staying overnight sleep in dormitory-like conditions on five double beds or three single beds opposite a giant oval shaped screen. On this screen, images taken from the archives at EYE in Amsterdam of clouds, rivers, old men chasing buses and sleeping humans are projected.
Weerasethakul raised eyebrows with his comment recently that he didn't mind if people went to sleep during his films. The director acknowledged that he himself will sometimes take a snooze during movies, especially mainstream narrative ones. "I like movies that are beyond stories, more than stories," he said, admitting that he slumbered through part of the last Planet Of The Apes movie, ("maybe half an hour.")
"For me, to sleep in cinema means that you are either tired or comfortable enough to let your guard off and be comfortable enough to mix your own dreams with the sound and the image."
Weerasethakul first attended IFFR in 2000. Back then, the city didn't immediately enrapture him. "It was much colder. I remember I was staying in the Hilton. It was very cold and I didn't want to come back - but I did!"